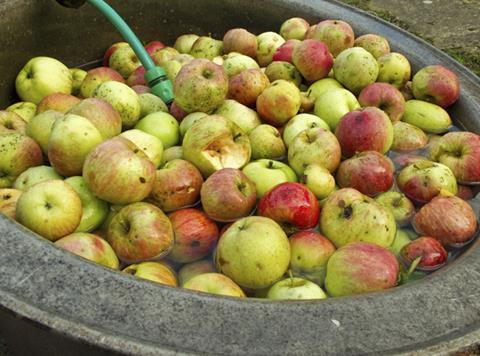 EU rules on the health benefits that products can or cannot claim unfairly disadvantage naturally healthy foods such as fresh fruit and veg, and urgently need to be revised if key public health challenges are to be tackled effectively.
That is the message from the UK apple industry, which this week launched a lobbying drive to convince the European Commission to make changes to how health claims for fresh produce are approved.
Consumption of key fresh produce items, including apples, was falling across the UK and the EU, and growers needed every tool in the toolbox to convince the public eating fruit and veg was important, said Adrian Barlow, CEO of industry association English Apples and Pears.
If the industry was "ungagged" on health claims, "it would help to convince consumers that eating apples can truly have a beneficial effect, resulting in improvements in the health of consumers and reduced public health costs".
Barlow has written a letter to the EC urging it to adopt a different approach when handling fresh produce claims, including assessing evidence as a collective body of work rather than on the basis of specific clinical studies, and working more closely with the fresh produce industry on identifying and funding further research needed to back up claims.
"It's treating food more like a pharmaceutical product, not something that's naturally grown and therefore has natural variations"

Adrian Barlow
Under current EU rules, food manufacturers and producers can only make health claims – such as that certain foods help lower cholesterol – if their claims have been approved by the European Food Safety Authority (Efsa).
The rules were introduced in 2010 to clamp down on spurious, unsubstantiated marketing claims about the health benefits of foods, but apple growers say the new regime has also had the unintended consequence of preventing them from highlighting the natural health credentials of their fruit.
"We absolutely agree with what the Commission wanted to achieve, but the way it's worked out has not been desirable," said Barlow. "Since 2010, no new claims for apples have been permitted, and we believe it is time for a completely different approach now."
One of the key problems with the current regime was that the evidence required to get health claims approved was geared towards manufactured food products rather than naturally grown produce, Barlow claimed. "It's treating food more like a pharmaceutical product, not something that's naturally grown and therefore has natural variations."
There was a large collective body of evidence from leading scientists that backed up apples' health credentials – including studies concluding apples can help cut the risk of heart disease and type 2 diabetes – but not the kind of large-scale clinical study currently required by Efsa, Barlow added.
Instead of forcing growers to spend a lot of money on new clinical research – which could only be financed by making apples more expensive for consumers or through substantial funding from the EU – the EC should introduce new health claims rules for fresh produce, which would allow evidence to be assessed as a collective body of work, he suggested. "There needs to be a reasonable relaxation."
Figures from the World Apple and Pear Association (WAPA) suggest apple consumption in the EU has fallen by 12% over the past five years, with consumption in the UK down by 5%.