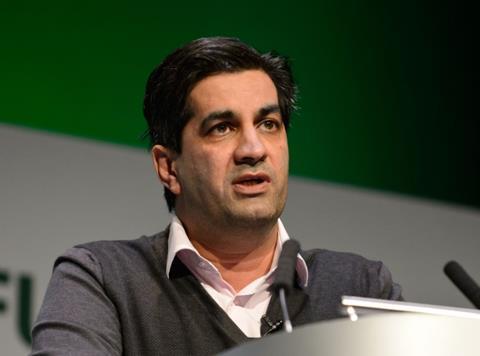 As retailers this week faced tough questions from farmers on their commitment to British meat and poultry post-Horsegate, Ranjit Singh Boparan urged farmers to be patient and not to expect moves to 100% British overnight.

The CEO of 2 Sisters Food Group defended Tesco - a key 2 Sisters customer - at the NFU conference, after farmers asked why it had only managed to switch to 100% British for fresh chicken and not frozen products or ready meals.

Making changes to meat and poultry supply chains took time, he said. "It took us 12 months just to get to 100% British on fresh with Tesco."

Getting UK planning permission for additional poultry sheds was not always easy, Singh said, and because British shoppers preferred white over dark poultry meat, retailers and suppliers also had to consider carcase balance when making sourcing decisions.

When moving Tesco to 100% British on fresh chicken, 2 Sisters had therefore worked on creating new chicken products using dark meat "and the balance has improved as a result," he said. "We need consumers to buy more dark meat; otherwise we need to start growing chickens without legs."

Tesco switched all its fresh chicken lines to British in June 2013; earlier that year, its CEO Philip Clarke had told the NFU conference it would shorten its supply chains and source more meat "closer to home".

Tesco group commercial director Kevin Grace said Tesco sold about five million fresh birds a week, and its move to 100% British had already resulted in its buying an extra 20,000 tonnes of British chicken a year.

The NFU this week published a scorecard on the major mults' sourcing track records post-Horsegate. It praised Tesco for sourcing 100% British milk , fresh chicken and eggs but urged it to buy more UK beef.
More on this story: Supermarkets are the solution not the problem: Boparan