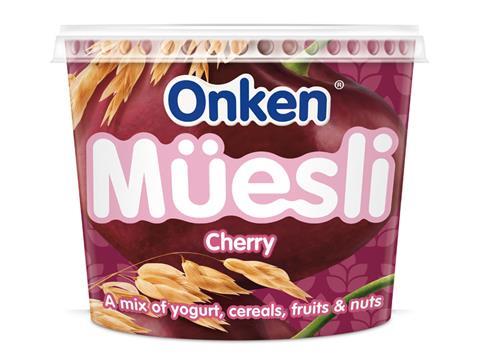 Breakfast pots are fast emerging as a key growth driver in the struggling small-pot yoghurt market, Onken maker Emmi UK has said.
The company – which entered the UK's small breakfast pot sector with Onken Muesli last August – said breakfast pots were seeing strong levels of growth (albeit from a small base) while the total small-pot yoghurt category was in decline.
Crucially, breakfast pots were succeeding in growing the overall yoghurt market rather than cannibalising sales of other formats, it added, citing data from Kantar Worldpanel that suggests 82% of breakfast small-pot growth has been incremental to the yoghurt category.
This showed breakfast pots fulfilled a different set of consumer needs, Emmi said.
The company added that its own Onken Muesli range of breakfast pots had delivered about £360,000 in retail sales value since launch and driven "incremental growth in a new yoghurt sector for the Onken brand".
Head of marketing Laura Graham said: "Since the Onken Muesli range launched eight months ago, we have experienced consistent growth within this high-value sector of small-pot yoghurts. We've been really pleased with the initial sales and we've been capitalising on the macro consumer trends for convenience and health within the yoghurt category."
The total UK yoghurt market is currently worth £1.4bn, up 2.1% year on year. Growth has been driven by sales of big pots, which are up by 8.1% in value and 7.7% in units year on year [Nielsen 52 w/e 1 March 2014].
Onken has a 19.6% value share of the UK's big-pot yoghurt market; its overall sales have increased by 5% in value and 2.8% in units over the past year.