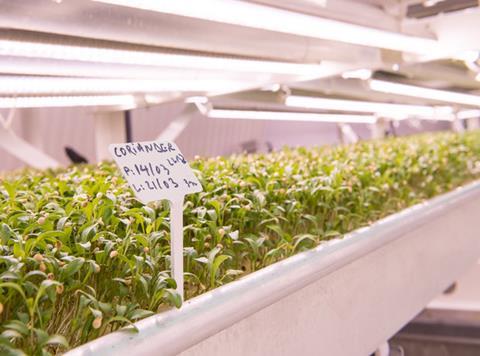 We live in uncertain times. Not only is there a protectionist zealot in charge at the White House, but half of Europe's fruit and veg farms are under water, and the outcome of upcoming Brexit negotiations could well lead to crippling tariffs on European food imports.
Add global warming and rising population numbers, and we may have to get used to crop shortages grabbing the headlines this year, with concerns over food security increasingly tangible.
As the country continues to struggle in the wake of #courgettegate, one solution could be the nascent market produce grown using hydroponics.
For years, it was seen as a niche technique, fine for growing a few tomatoes, yet better known as the favourite technology of the suburban marijuana grower.
But with the emergence of companies like French startup Agricool – which announced plans last year to grow up to 91 tonnes of strawberries in 75 converted shipping containers by the end of 2017 – and UK newcomer Growing Underground, this practice could be set to go mainstream.
Growing Underground – which grows a host of micro herbs and salad mixes in a converted World War Two bomb shelter in Clapham – made the news this week after announcing it had secured a major listing with Ocado for its range.
The grower's lineup of six salad mixes in Ocado represents its first major retail deal after three years of supplying wholesalers, farmers' markets and restaurateurs such as Michel Roux Jr, while other retailers are also interested, according to co-founder Steve Dring.
Food security
The Somerset native and his business partners launched their venture in the wake of the UK's floods in 2014, and Dring says the technique of growing crops in controlled environments like in his subterranean South London bunker could be an effective weapon in safeguarding food security in an increasingly volatile world.
"With growing populations and only a finite amount of agricultural land, growing in controlled environments could help provide us with food security in the future, or at least a significant part of it," he says. "We see urban farming as very complementary to traditional farming and it lends itself very well to the need to bring the grower closer to consumers."
The company's Clapham facility has the capacity to produce up to 100,000kg of peashoots (or an equivalent crop) a year, and has already attracted like-minded visitors from Japan, China, Singapore and the US, including tech titan Elon Musk's brother.
"Ocado took the product on because it was innovative, but more importantly because it looks good and tastes good," adds Dring.
Equally significant to whether it succeeds or fails is the revelation that one of the company's major shareholders is fruit & veg giant G's Fresh.
Perhaps the day when we can once again enjoy all-year-round courgettes could yet be on the horizon.