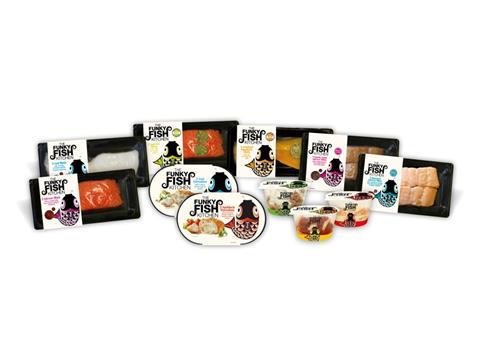 The Funky Fish Kitchen - the exclusive-to-Asda chilled fish brand from Young's - is on track to hit £10m in sales within a year of launch, The Grocer has learned.

Young's launched the range of ready-to-cook and ready-to-eat range of seafood products in September, to rival The Saucy Fish Co.

Funky put in an "extremely strong performance" and achieved a sales "run rate" of £7.4m in Asda, Young's parent, Findus Group, said in documents seen by The Grocer. It expected sales to reach £10m by the end of the year.

Findus also revealed the Young's masterbrand was in "steady growth" and increased its market share over recent 12-month, 12-week and four-week periods.

Share stood at 23.2% in January 2014, up from 22.8% in January 2013 [Nielsen MAT January 2014]. In the four week period quoted, its market share reached 25.3%.

However, Findus Group's UK EBITDA (excluding investor fees) fell 29.4% to £8.4m on net sales down 2.2% to £147m in the fourth quarter of 2013, according to unaudited results for the 13 weeks to 28 December quoted in the Findus documents.

Findus said "continued" growth in chilled seafood and customer share growth was offset by the "exit of unprofitable frozen private label contracts and promotional phasing on the Young's Brand."

Europe has also struggled recently, with group EBITDA down 25.6% to £20.3m in the fourth quarter of 2013, and sales down 3.9% to £281.9m. Findus blamed "softer" consumer demand for frozen fish in Norway, a time lag in recovering higher costs, one less trading days in October 2013.

In the week UK CEO Leendert den Hollander announced his departure after three years, group CEO James Hill paid tribute to his "legacy of stability and strong and positive results."

"We are very pleased with [our] progress and remain on plan to deliver underlying increases in turnover and profit for the full year as we did last year," said Hill. "The performance in the UK is strong, and on plan to achieve its forecast."

A spokeswoman also cautioned that pre-tax losses of £37.6m for the final quarter did not take into account the impact of goodwill writedowns and "investor interest" structures on the P&L.

Neither document references the horsemeat scandal, despite a Findus frozen lasagne being found to contain up to 100% horse instead of beef last March.