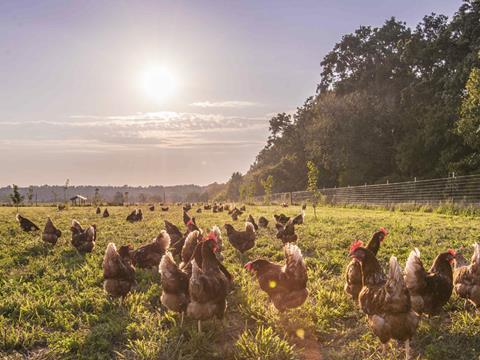 The Happy Egg Co is now the largest free-range egg supplier in the US by market share, less than three years after launching stateside.

The Noble Foods brand has seen its US sales jump from $10m (£6.5m) to $21m over the past year, as its distribution has tripled. In July, the brand secured a deal with Walmart that has seen its distribution increase to 1,600 stores, as well as scoring new listings with Food Lion and Meijer grocery stores.

This means it is now sold in more than 6,000 retail outlets across the US, and is the only US free-range egg brand sold nationally, on a coast-to-coast basis.

The Happy Egg Co said its presence in the US market had significantly boosted consumer demand for free-range eggs, with the proportion of US consumers purchasing eggs from caged hens falling from 95% in 2012 to 85% in 2015.

"The Happy Egg Co has been at the forefront of this change and its success during the last 12 months, and this has taken the company a great step closer to its mission to bring humanely raised eggs to all consumers at an affordable price."

"The free-range category is booming and we are excited to see how consumer purchasing habits have changed in such a short amount of time," added Happy Egg Co USA marketing director Jenni Danby.

The US has recently been hit by an outbreak of avian flu, but The Happy Egg Co's "forward-thinking production model" had ensured uninterrupted supply to its retail customers, Danby added.