There's nothing quite like a scandal to persuade shoppers to shell out a bit more for their meat. Having shunned processed meat products post-Horsegate, Brits have returned to burgers and bangers with gusto - and it seems the posher, the better.
Consumers have spent £24.4m more on fresh burgers over the past year, sending value sales soaring 10.2% to £263.5m on volumes up 7% to just over 40,000 tonnes.
Some of the value increases are inflation-driven, but experts say the key growth driver has been shoppers trading up to more premium options. "Consumers have come back, but they are opting for fresh and, particularly, premium-tier products," says Mike Whittemore, head of trade marketing at Eblex.
Consumers' appetite for premium is evident even where overall sector performance has been mixed. Take sausage sales, which have shot up 9.3% in value to £575.4m, but slipped 3.6% in volume [Kantar]. Premium sausages have driven much of the value increase, while lower demand for standard bangers has been responsible for a lot of the volume decline, says Jennifer Leck, strategic insight analyst at the Agriculture and Horticulture Development Board. Bacon suppliers are also reporting strong demand for premium SKUs, despite a 2% slump in value sales to £1.3bn on volumes down 5.1% across the bacon market as a whole [Kantar].
But given that sales in these two sectors are not exactly sizzling elsewhere, is pushing quality really the way to drive growth in the wider burgers, bangers and bacon market? Won't consumers eventually revert to type and start prioritising value for money again?
"The sales increase in premium meat lines shows our customers are prepared to trade up"

Joshua Hetherington, The Co-operative
There's no doubt that premium offerings have gathered momentum in the wake of the horsemeat scandal at roughly the same rate as more value-oriented fare has lost its allure. Cranswick says it has managed to grow total value sales by double digits percentage-wise over the past year thanks to its "upscaling artisan" strategy, which involves taking small, premium products, such as dry-cured bacon, into mainstream retailers.
It's increasingly about quality over quantity, agrees Leck. "While total rasher sales have dropped, there is a growing consumer appetite for premium bacon rashers," she notes. "Premium-tier rashers are increasing in popularity, seeing a 7.8% uplift in volume compared to last year, with British produce benefiting from this trend."
Of course, premium products were a major growth driver for added-value meats like burgers, sausages and bacon long before Horsegate, but the scandal has reinforced the trend and emphasised the need for retailers and suppliers to highlight their quality credentials. Concerns over imported meat have also prompted them to flag up their British provenance.
Graham White & Co - makers of Porky Whites premium sausages - added the word 'premium' and a Union flag to its packaging, for instance. "Although we have always produced a premium product, we had to make it crystal clear to the public," says MD Chris Price.
Kerry Foods has also jumped on the trend, launching a new range of premium bangers and bacon under its Wall's brand this month - all made with 100% British pork.
The Co-operative Group, meanwhile, reports sales of its Truly Irresistible range of premium own-label sausages have shot up 30% in the past year - and protein buyer Joshua Hetherington says the retailer's new dedicated British farming groups have played a big part in that success.
Suppliers are increasingly flying the flag in the foodservice arena too. Supplier TMI Foods launched a British outdoor-bred pork chipolata sausage for BP's Wild Bean Cafés in February, which is used in all-day breakfast and sausage baps, and claims its British sourcing credentials have helped boost company value sales by 15% over the past year. "British origin is a strong asset and these attributes, along with our intense focus on new product development, have enabled us to grow our business," says sales director Ian Richie.
That's not to say premium has to mean British. Last year, Danish Crown successfully launched new premium Danish bacon products under its Viking range of own-label products, including fresh and smoked, hand-salted bacon, which are cured in the UK. Sales director Carl Beardshall says its short, transparent supply chains have been a major selling point. "The horsemeat scandal highlighted the convoluted supply chains some meat goes through. Being able to clearly demonstrate a 'farm to fork' product is invaluable."
Innovation
Suppliers and retailers nevertheless know that quality and sourcing credentials won't be enough to keep shoppers coming back to the processed meat aisles. NPD is high on the agenda, and with Horsegate having chiefly affected beef products, pork suppliers see an opportunity to push into areas traditionally occupied by beef.
Top of their list is burgers. Value sales of pork burgers have risen 25.5% year on year to 20.6m, while volumes have increased by 26.6% [Kantar], and suppliers believe there is still plenty of room for growth.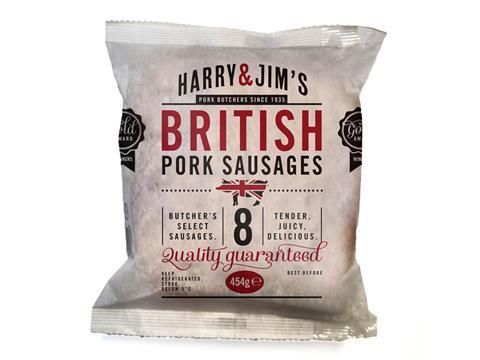 Harry & Jim's British Pork Sausages
Launched: April 2014
A gap in the mid-tier sausage market has prompted Graham White & Co to launch a new brand of parchment-packed sausages. Harry & Jim's Pork Sausages (rsp: £1.99/454g) come in packs of eight standard, Cumberland and Lincolnshire flavours and hit the shelves of Asda nationwide with an introductory price of £1.50 this month. The Woking-based manufacturer is in the process of negotiating further retail listings.
Co-op Truly Irresistible Ultimate Hot Dogs
Launched: April 2014
The Co-op is combining pork and bacon in its latest premium own-label hot dogs (rsp: £3/600g). Tapping the trend for breed-specific meat, the 88% pork sausages, manufactured by Cranswick in packs of six, combine British Hampshire breed outdoor-reared pork and bacon to create a Frankfurter-style texture. They're launching in time for the summer.
Highland Game Venison Burgers
Launched: March 2014
After winning listings in 250 branches of Sainsbury's, 200 of which are in England, Highland Game has created venison burgers topped with a garlic and a cheese melt (rrp: £3.50/250g) for the retailer. The packs of two burgers combine venison, herbs and spices and are designed as both quick midweek meals and "something different" for the barbecue.
Edwards of Conwy Beef Meatballs
Launched: January 2014
With consumers demanding more information about what goes into their products, Welsh butcher Edwards of Conwy has entered the meatball market with a Welsh beef PGI-certified offering (rsp: £2.99/370g). The packs of 12 seasoned meatballs are made from prime Welsh beef and are available in Welsh branches of Asda, Tesco and Spar.
"It was no accident that we decided to go into pork burgers," says Sue McVie, shopper marketing director at Kerry Foods, which launched mini pork burgers under its Richmond brand in March, having branched out into mini meatballs in 2013. "The pork category is starting to identify new occasions, which is great news because over the last five or 10 years NPD has been lacking."
Kerry Foods is not alone. Debbie and Andrew Keeble launched a 'squashage' under their new Heck brand last May - a square sausage that resembles a burger after cooking - and Price at Graham White & Co is considering following their lead. "Pork patties have been taking on some share from the beef segment," he says. "We may look at launching our own version."
The pork burger trend has also boosted sales of pork mince. "We have seen significant growth in demand for pork mince, which consumers are using to replace beef in traditional favourites such as spaghetti Bolognese," says Rob Hoare, commercial and marketing director at Tulip, the UK arm of Danish Crown.
Away from burgers, Cranswick has its eye on new formats to revive the flagging bacon joints category. It is developing "mini joints", which it plans to present to its own-label retailer customers shortly.
"We have seen significant growth in demand for pork mince, which consumers are using to replace beef in traditional favourites"
Convenient meal solutions featuring bacon and other added-value pork are also a key focus at Karro Foods. "We are starting to see significant growth in the ready-to-cook category, which means more added-value meat in the fixture for consumers," says marketing director Ruth Griffiths.
With this year's crucial barbecue season coinciding with the Fifa World Cup in Brazil, added-value meat suppliers are also considering Brazilian-themed NPD.
Hybrid consumer
Tulip is ahead of the game, having already launched four street-food inspired products, including shredded beef and pulled pork, for its foodservice division back in October. "Pulled and slow-cooked pork shoulder has been the big story as taste and convenience continue to shape buying habits," says Hoare.
The processed meat sector's enthusiasm for all things premium is clear, but some experts are warning brands and retailers must be careful not to neglect the lower tiers of the market in their push for posh. "We're seeing the emergence of a hybrid consumer seeking value for everyday consumption and more premium and authentic products for weekend indulgence and treats," says Richie at TMI, which plans to launch microwaveable packs of bacon to appeal to more value and convenience-conscious consumers.
There's no question premium will remain key, but as memories of Horsegate fade and the discounters continue to gain traction with their 'affordable quality' promise, the sector cannot underestimate the importance of also being able to offer value for money.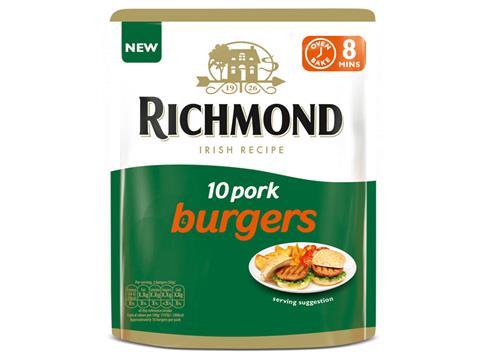 Kids' options
Burgers, bangers are bacon and well-known kids' favourites and with new consumption occasions key to category growth, suppliers are eyeing tea time with increasing interest.
After Richmond's mini meatballs helped the brand grow 6% year on year, brand owner Kerry Foods decided to target kids with chilled mini pork burgers and mini sausages, launched in March.
"A lot of manufacturers are going down the tea-time innovation route," says Sue McVie, Kerry Foods shopper marketing director. "Mums want something quick and convenient to satisfy the whole family and if it's designed for the whole family we've got more chance of success."
Pork supplier Karro is also considering entering the kids' category. "We are looking at kids' healthy snacking at our sliced cooked meats site," says Ruth Griffiths, marketing director at Karro Food Group. "It's a challenging and exciting project."
But other players are more cautious. "Products made specifically for kids tend to be mass produced and of poorer quality, and in light of the horsemeat scandal people are less trusting," says Chris Price, managing director of sausage manufacturer Graham White & Co. "There's a 'what we have, our children will have' mentality now. It's not a viable market."
There are other challenges to trying to develop products for kids. "Kids quite quickly want to eat the same as mum and dad so it's a very small window and we found it quite polarising," notes Jim Brisby, marketing director at Cranswick, which has 'dabbled' in kids-specific products in the past and isn't ruling out a return to the kids sausage category in the future. "They're not as easy as you think."