Jim Paice is only a few hours into his new job as chairman of First Milk when I sit down with him at the dairy co-operative's agm, but he is wasting no time making his mark.
First Milk announced a new partnership with Adams Foods earlier that day, and I have come to speak to the former Tory food and farming minister about his vision for the dairy co-operative's future. Paice is an enthusiastic advocate of the deal, which he believes leaves First Milk and its farmers well-positioned for future growth. "We have now a guaranteed outlet for over 50,000 tonnes of cheese for 10 years," he says. Fifty thousand tonnes is more than First Milk has produced for several years, he adds, and "it provides us with a long-term stability for investment in our two major cheese factories, and ensures that we benefit from Adams' expertise in marketing and the most advanced packing facility in the country".
The Adams Foods deal has delivered some much-needed good news after a rough few months for First Milk, with farmer protests over milk prices earlier this year, a £7.8m loss for the year to 31 March and - most recently - the loss of a major cheese contract with Asda, which prompted First Milk to launch a consultation last month on closing its Maelor packing plant in Wales. Paice is keen to stress the new Adams deal more than makes up for the Asda volumes and, more importantly, he knew the business had been lost before accepting the job as chairman, "so I didn't get landed with it".
"Arla pretend to be really concerned about the dairy industry in this country, and I haven't seen any evidence of that yet"

Jim Paice
But he's clearly angry about what happened. When I ask him why First Milk lost the contract, he lets rip. "The fact is we were not going to stoop to the levels Arla stooped to to get that contract," he says. "We know we have not lost it on quality or anything to do with service. We lost it purely on price. They bought it at a price that we could not dream of competing with."
And that's not all. Arla's aggressive bidding didn't just make it impossible for First Milk to compete, it has damaged the whole of UK dairy by undermining cheese and milk prices for farmers, Paice claims. "Arla pretend to be really concerned about the dairy industry in this country, and I haven't seen any evidence of that yet," he says. "They have probably done untold damage to the dairy industry by the way they went out and got that contract. If you bid for a cheese contract at a price you cannot produce it for, the only way you'll make a profit is with a lower input price on the milk."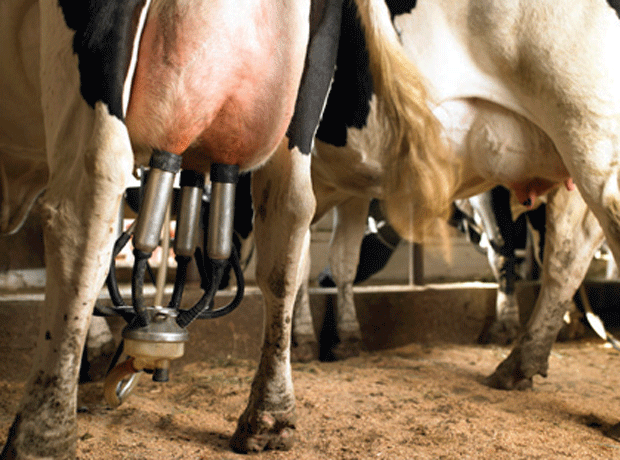 That then has a knock-on effect on other retailers, who need to compete with Asda and will therefore put pressure on their suppliers to reduce milk prices, Paice argues. "You are in a downward spiral again, which can only end up having a negative effect on the milk price, so that damages the whole industry. And this is a supposed co-operative."
The effects of these tactics are already plain to see, Paice suggests. He points to the fact Arla recently introduced a new requirement for its farmers to hit certain butterfat targets, which he claims amounts to a milk price cut. "That's clawback. That's half a pence tax. We already have producers who left us to go to Arla, who are now trying to come back and get out of the Arla contract because they're worse off than they were with us."
He even goes so far as to cast doubt on Arla's ability to come up with the 20,000 or so tonnes of cheese it will be supplying to Asda. "There are rumours that they can't even produce it yet - they don't have the capacity for production for the contract they've gained," he says. "That's their problem not ours. We've moved on."
Those are pretty serious charges, which Arla vigorously rejects (see box).
Arla responds
"As a farmer-owned co-operative, our whole purpose is to secure the highest value for our farmers' milk while creating opportunities for their growth," says a spokeswoman. "That means we pay the highest-possible price to our farmer owners, of which from 1 January 2014, circa 3,000 will be British dairy farmers. We pay one of the leading milk prices in the UK, and it is not in our interest to win business at an unsustainable price or negotiate contracts on which we are not able to deliver that could threaten the financial livelihood of our owners and, in turn, the British dairy industry. Our farmer owners invest in building dairies and supply chains that are highly efficient, enabling us to produce products of excellent quality and deliver a great service to our customers."
First Milk may have "moved on" by partnering up with Adams, but Paice's palpable anger at what he perceives to be Arla's aggressive tactics tells a different story. "I can't shed my past," he admits. As minister he was "really passionate" about the future of British dairy, and "I can't suddenly, overnight, change my wider concern for the dairy industry, and that concern obviously comes through in what dairy farmers get for their milk."
If that's the case, some might suggest he should start by fixing problems closer to home instead of lashing out at rivals. First Milk has long lingered towards the bottom of the milk price league tables, although The co-op put up its prices on 1 November, with a second price increase due to come in from 1 December. Paice concedes there have been problems with low milk prices in the past, but insists First Milk's new deal with Adams leaves it better placed to pay its farmers well. "The partnership arrangement ensures that as long as we continue making that cheese efficiently, we will make a profit out of it, and - what's more - we'll be able to pay a competitive milk price to our farmers for it."
Voluntary code
Paice is clearly upset with Arla, but it is not the only dairy company to have raised his ire. Müller UK and Ireland CEO Ronald Kers was recently quoted in the farming press calling for a debate on notice periods under the voluntary code of conduct on milk contracts, which Paice helped negotiate as minister before the autumn reshuffle last year. The code requires dairy companies to allow farmers to exit their contracts with just three months' notice, but there is an exemption for farmer co-operatives like First Milk and Arla, which allows them to hold on to 12-month notice periods.
Paice makes no bones about the fact he is unimpressed with Kers's "caustic" comments, which he says "aren't based on reality". "Don't forget, I was the minister," he says. "I know full well what was going on, and he was talking a load of nonsense."
The exemption for co-ops was part of the code that was agreed, and "if he didn't like what was in there, he shouldn't have signed the thing in the first place," Paice adds. "I'm sorry, you can't have it both ways. If they wanted a code then that means compromise, but having compromised you don't then immediately try to reverse out of it."
But given the code was launched a year ago, isn't it legitimate to now want to review it? Paice doesn't think so. "We always knew the code of practice would take time to bed down," he says. "It's only a year since we even launched the code - I really do not see what justification there is to undo some fairly core parts of it."
Müller responds
"As a minister, Mr Paice pressed the industry to respond to calls from farmers who want the ability to resign from contracts within a reasonably short time frame," says a spokesman. "Indeed, he echoed our view that processors who treat farmers properly have nothing to worry about. We therefore find it strange that as chairman of First Milk, which holds the majority of its members to 12 months' notice, he is sitting on his hands on this issue. Restrictive notice periods are an anachronism that needs to be addressed to the benefit of dairy farmers and the industry as a whole.
"We are ambitious to grow and want to work with dairy farmers who share this ambition. Our proposition is successful and we met our recruitment target for this year in just seven months. Restrictive notice periods are delaying and preventing many farmers who wish to move from doing so, and it is time to discuss levelling the playing field to allow the market to work."
Rather than farmers wanting a change to notice periods, Paice suspects Kers wants a debate because he's desperate to secure more milk. "Let's take a step back: why is he saying this? Because Müller Wiseman are anxious to get more milk contracts. Even though, to be fair, he is saying it. You talk to some of his management, they don't actually want 100% supply contracts because they couldn't manage it. Don't forget, we do supply them. We've got a contract with them."
"But that's what he's trying to do. And because some of our members are perhaps not as willing to be enticed by his people as he would like them to be, he has to start wanting to change the terms of engagement."
However, Paice leaves the door open to revisiting the question of notice periods, should First Milk's farmers want it. "It's up to them to make those decisions. If members come to us and say, actually we want First Milk to change the terms of our contracts, then they own the business and they have the right to ask us to do so. But there is no evidence of them doing that yet."
Müller, for its part, maintains it's time to have a debate about notice periods (see box).
Future direction
After a few rough months, First Milk clearly needs to make an impact with its farmers and Paice's robust rhetoric and impeccable countryside credentials (he tells me he consoled himself after being sacked as minister by going on lots of shoots with his farming pals) could be just the ticket. But his comments about Arla and Müller are nevertheless confrontational. Why the need to lash out? Is he perhaps feeling rather defensive about First Milk's strategy?
Not so, insists Paice. First Milk has had a difficult time recently, but it's on a path to a better future: milk prices have been raised, the Adams deal secures the future of its creameries, and it is investing in new added-value products, he says. "We have a very sound business base now, through the combination of this excellent partnership arrangement [with Adams], and our engagement with Westbury and Fonterra give us access to the commodity markets, and we have been putting milk into Westbury quite a lot over the last few months because that's where the biggest margins have been.
"We have got our added-value ranges of quark and [milkshake range] Frumoo and Caffe Latte and other things in the chain. They won't be big users of milk, but they will be profit centres, so with all these things put together, it's a stable base from which we'll be able to pay a competitive milk price and continue to pay a good rate of return on the capital invested by our members."
"There are people who would be very happy to see First Milk fail, and we are not going to fail."

Jim Paice
As for what First Milk will look like in the future, the vision is "relatively straightforward", says Paice. "We will continue to be a very major buyer of milk, which will go into the range of activities we've got - our cheese plants, primarily into the Adams contract, although we retain all exports and we're driving that forward. We'll also remain major buyers through brokerage and indeed into Westbury. On top of that, the strategy is to build our own brand - the Lake District brand - not just through branded cheese via Adams but also through all the other products."
Crucially, however, First Milk is not preoccupied with being the "biggest" in the market, Paice says. "We are not trying to go head-to-head with Müller Wiseman or indeed Arla because our principal role is not to become the biggest. Our principal role is to look after our shareholders. I feel very strongly about that. I'm not saying we're against growth, but our principal role is to look after our farmers who own this business. I don't particularly want us to be compared to the others. We're carving out a different strategy."
His job over the coming weeks and months is to communicate that difference to farmers, he says, and to re-emphasise to them the benefits of being part of First Milk, which he describes as "the only one true British dairy co-operative". Arla, although a co-op "in legal terms", isn't behaving like a British co-operative, he claims. "A co-operative that actually cares about the future of its member can't do that to the exclusion of the industry in which it is working. And some of the things Arla has done I don't think are in the interest of the British dairy industry."
Then there's the business of defending First Milk against what he perceives to be damaging industry chatter. "There are people out there who are trying to do us down and we know full well where some of those stories are coming from. There are people who would be very happy to see First Milk fail, and we are not going to fail.
"So I don't think we're defensive. We are on the offensive, if you like, in terms of wanting to put the record straight."