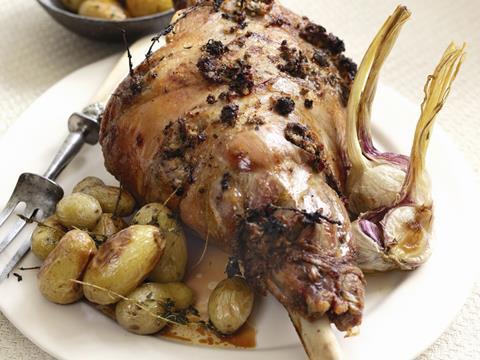 Lamb lovers looking for a bargain this Easter are likely to be disappointed - prices are rising and retailers are cutting back on promotions as reduced imports from New Zealand tighten supply.

Over the past 12 weeks, just 47.2% of lamb leg was sold on deal compared with 62.5% during the same period last year [Kantar Worldpanel 52 w/e 2 February 2014]. Over the same period, average per kilo prices in the mults increased 5.1% year on year, to £8.10/kg.

Much of last year's promotional activity was fuelled by unusually large volumes of imported lamb coming into the UK. According to HM Revenue and Customs, the UK received 98,000 tonnes of sheepmeat in 2013 - up 14% year on year - with most coming from New Zealand.

This year, however, New Zealand had less lamb available and was sending more of it to China, meaning UK retailers had less to play with for promotional deals, said Paul Heyhoe, senior analyst at Eblex.

"Last year, they were promoting the hell out of lamb, with some offering better-than-half-price deals. We're not seeing anywhere near as much promotional activity this year."

In January, New Zealand exports to the UK were down 23% year on year by volume, while those to China were up by 93%, he added.

Fewer deals and higher prices have already dampened demand for lamb, with volume sales down 4% year on year over the past three months, although volumes remain up on a 52-week basis, by 8.4% year on year [Kantar].

Lamb supply is expected to ease somewhat during the second half of the year thanks to a much improved UK lamb crop this year following the spring snow in 2013, but supply from New Zealand is forecast to remain tight for the rest of 2014.