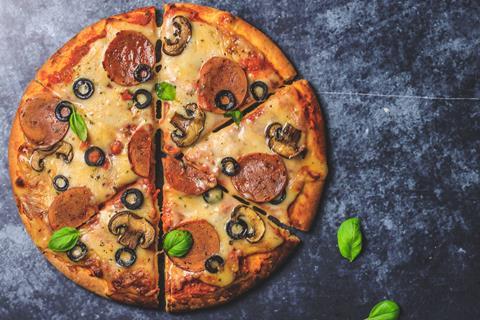 LoveSeitan has launched what it claims is the UK's first seitan pepperoni alternative available to retail.
Seitan Pepperoni is made from wheat-based seitan, which LoveSeitan said was "the perfect choice for meat alternatives" and was continuing to gain popularity.
It added that until now, pepperoni fans looking for a plant-based alternative have had to make their own at home.
The Seitan Pepperoni is vegan, soy-free and certified as Kosher.
It launched online today in two pack sizes – 100g (rsp: £1.95) and 300g (rsp: £3.95).
The product had been in development and testing for a year, with LoveSeitan saying it had "taken great care to ensure this new release satisfies the tastebuds of even the most dedicated pepperoni enthusiast".
LoveSeitan co-founder Steve Swindon said he wanted to "make sure it fits the pepperoni taste profile and appearance as closely as possible" and the brand had tried "many different variants" before finding the "right recipe to satisfy pepperoni lovers".
"There's no denying that pepperoni is the world's favourite pizza topping; now we can enjoy a plant-based version without the need to involve animals in the process," Swindon added.
Waitrose launched a pizza with seitan pepperoni on it in January, but the pepperoni itself was not available to buy seperately.