Take a look at the fish pictured. It looks like a healthy specimen. It probably tastes pretty good too. But for some people, this salmon is completely off limits because it was born and reared on a fish farm. Greenpeace, for one, is against the practice. As are both the Global Alliance Against Industrial Aquaculture and Compassion in World Farming. These pressure groups have a number of concerns about how the fish farming industry operates, ranging from the nature of the feed used through to the impact farmed fish can have on fish in the wild.
So what is the aquaculture industry doing to win over the doubters and convince them that farmed fish is an ethical and sustainable choice for consumers? After all, no one seems to have an issue about farming animals on the land, so why should they be concerned about fish farmed at sea?
UK aquaculture is still in its infancy, yet it's enjoyed tremendous growth over the last couple of decades. In 1980, it only provided 9% of fish consumed in the UK whereas today it provides 50%, according to the Scottish Salmon Producers' Organisation (SSPO). Furthermore, the SSPO says, each day in the UK one million fresh salmon meals are eaten, with one million smoked salmon meals eaten each week.
It's the sheer scale of the industry that's created the problem, believe campaigners. In a recent blog, Greenpeace UK ocean campaigner Willie Mackenzie, argued: "Smoked salmon used to be an occasional expensive food. Farmed salmon is now a ubiquitous, cheap product. Salmon has shifted in just a couple of decades from being a rare, fancy treat, to a discounted supermarket staple."
This growth in demand has been fed by the rise of salmon farming around the world and particularly in Scotland. Although there is a burgeoning aquaculture industry in England and Wales, much of this is dedicated to the farming of coarse fish used to replenish fisheries for angling purposes.
With a worldwide retail value of more than £1bn, salmon is Scotland's largest food export. And it's an industry that continues to show rapid growth, with export sales of farmed salmon rising by around 51% from 2003-2013, according to Defra - 10 times faster than UK exports over the same period.
Although UK producers farm a number of different species of fish, with new trials recently getting underway to farm lobster and prawns, the volume of these species pales into insignificance when compared with salmon produced. And therein lies the problem, says Mackenzie.
"Over recent years, it's become a much cheaper commodity. We've devalued the species to the extent that there is pressure to produce it cheaply and quickly, which means that the better options - lower impact, less densely stock and so on - are factored against because people are pressured to do things cheaply."
Loch, stock and quarrel
Last year, an impressive 70% of the global salmon farming industry signed up to the Global Sustainability Initiative, which commits farms to work towards exacting environmental and social standards. Additionally, 90% of Scottish farmed salmon is anticipated to be Freedom Food-certified to RSPCA farming welfare standards within the next couple of years - with 70% of producers currently abiding by the certification.
"In all industries, you get problems and there are some very vociferous critics of salmon farming," says John Avizienius, deputy head of livestock at the RSPCA. "But all I see is people trying to do the best job they possibly can and on the welfare front,the RSPCA is supplying the standards that allows them to do that."
"Aquaculture has the potential to produce affordable fish on a huge scale"

Nigel Edwards, Seachill
There's a lot of misinformation out there about fish farming, he adds. "If someone can show me the evidence where the environment has been eroded and destroyed, I'd like to have a look at it because I haven't come across that in my personal experience".
It's a stance supported by Nigel Edwards, technical director at Seachill, who believes that farmed fish have a crucial role to play in meeting the nation's dietary demands. "We need the vital proteins and nutrients that are almost unique to fish and so important for a truly healthy diet - produced without the huge use of water and land resources that are consumed in growing land animals," he says. "Consumers love eating fish; the problem is affordability. Aquaculture has the potential to produce affordable fish on a huge scale and is already doing so. It brings new consumers to the category and, in doing so, changes their diets."
In addition to meeting growing consumer demand, the aquaculture industry also presents a sustainable alternative to some species of wild fish that are in danger of being overfished.
"We believe that aquaculture plays a vital role in supporting the oceans' seafood stocks and helping to ensure the fish we consume is responsibly sourced," says a spokesperson for Young's Seafood. "It can help ensure that demand for seafood is met without causing sustainability issues for wild-capture fisheries."
Birds Eye is also convinced aquaculture has a big future. "New technology will make the industry both more competitive and sustainable," says a spokesman. "With these developments we see cod, haddock, pangasius and tilapia as species with great fish-farming potential that will be popular sources of protein for consumers."
Net worth
Given the growing demand for fish and the fact many fish stocks are still recovering from overfishing, it appears that the aquaculture industry does have a role to play. But the public know little about the industry or how it works.
In a consumer survey published in February 2013 by Emiko Phillips and Lyn Newton, from the University of the West of England, half of the participants expressed no preference for wild-caught or farmed seafood, and the majority (77%) had no idea that nearly half the seafood we consume is farmed.
These results underline the importance of better consumer education, argues Jack-Robert Møller, UK director of the Norwegian Seafood Council. "It is important to tell the story and educate the consumer about the importance of the salmon farming industry in relation to the fantastic product they will see all year round in their supermarkets."
Consumers are already doing their bit to raise consumer awareness, Earlier this year, Tesco was forced into an embarrassing u-turn over a Scotland-wide farmed salmon campaign after it admitted that products labelled "100% Scottish" were actually imported from Norway. And in 2013, it was Sainsbury's turn to backtrack after it wrongly mislabelled fish farmed in a sea loch as being sourced from seawater farms.
These incidents highlight the lingering issues that need to be addressed by the industry to assuage the concerns of fish farming's critics, but the RSPCA's Avizienius believes producers are up to the challenge.
"Fish farming in the UK is still a very young industry," he notes. "Whatever we've asked for, the industry has always delivered, so as it continues to develop we believe that many of these issues will be sorted out."
If they are, fish from aquaculture systems would perhaps no longer be seen as farmed and dangerous.
Case study: Marine Harvest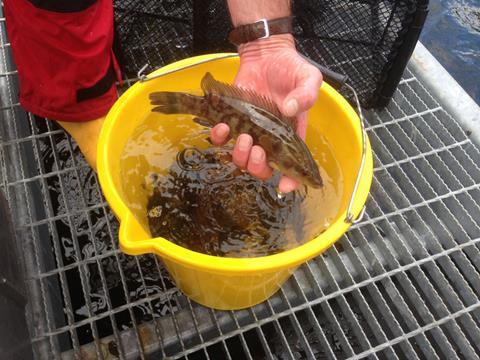 Sea lice - tiny parasites that live on the skin of fish - are undoubtedly the biggest challenge facing fish farmers in the UK. Campaigners argue that sea-lice infestations on farmed fish threaten the health of wild fish, including wild salmon, because their migratory routes take them through sea lochs filled with fish farms.
The industry has historically relied on chemicals to control the disease, but this can result in localised pollution. As a result, producers have been exploring alternatives and they may have found an unlikely weapon in the form of wrasse - a fish found off the coast of the UK.
It may not be the sexiest looking species swimming in our waters, but wrasse love to devour sea lice, so producers like Marine Harvest have started introducing the fish to their pens at a ratio of 4% wrasse to salmon. The results of these trials have been "remarkable", according to Marine Harvest's business support manager Steve Bracken.
"We tried it on one site near Fort William and we didn't need to treat the fish for lice at all in 18 months, which was an amazing result. We're now beginning to see the same thing happening in three of our farms in Loch Sunart, which are stocked with wrasse."
Bracken says that this natural method of lice control has a "brilliant future" and the company is learning all the time about how to look after the fish.
"When we don't have lice on our fish we have special feed that we give to the wrasse and we have also made hides for them so that they can have a bit of a rest and shelter before they go out looking for lice."
At the moment, the company is using wrasse that have been caught in the wild, but the eventual plan is for Marine Harvest to grow its own wrasse in hatcheries, with all of its farms eventually stocked with the fish.