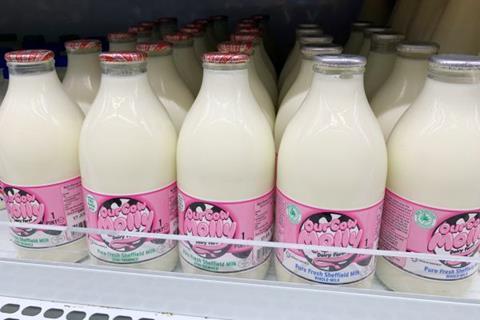 A Co-op store in Sheffield is trialling a glass-bottled milk scheme run by a local dairy.
Around 30 glass bottles from Our Cow Molly will be available for purchase from the Ecclesall Road store. Customers will be encouraged to bring the bottles back to the store so that they can be reused.
"As far as I know this is the first time any major supermarket has offered a non-single use plastic option in the milk aisle," said Our Cow Molly owner Eddie Andrew.
"For those customers that choose to have milk in glass, they'll basically have no plastic milk bottle waste in their recyclable waste."
Our Cow Molly already supplies Co-op stores in Sheffield with milk in plastic bottles, as well as delivering directly to around 1,000 doorsteps across the city.
"We've seen a huge increase in the number of people saying instead of a plastic bottle, can we have a glass bottle," added Andrew. "There's been a lot of frustration for people in Sheffield that they can't get access to buy milk in glass."
The business, which won the Future Food Award at the 2016 BBC Food & Farming Awards, is the only dairy farm left in Sheffield producing and bottling milk.
"It is quite nice that we have not only held on this long, but have held on long enough to see glass return to stores," Andrew said.