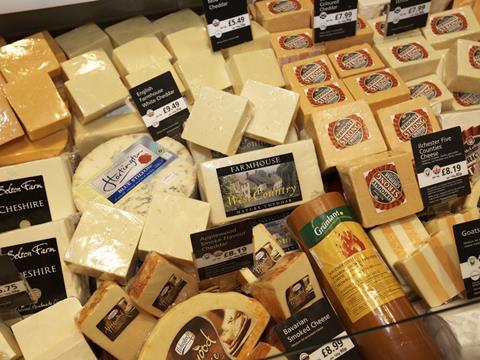 Tesco has overhauled its merchandising strategy for block cheese, with blocks now sold at key single price points instead of being grouped by flavour profile.

Following a range review, all Tesco's small and medium standard own-label block cheese will be sold in packs priced at £1.50 and £2.50, with packs weight-engineered to meet the new price points. Meanwhile, large blocks, weighing 400g and 450g, will be sold under a newly expanded 2-for-£5 multibuy deal, which now also includes lighter, Red Leicester and Canadian SKUs.

Tesco is highlighting its new pricing hierarchy with new PoS that started going into stores on 31 March, including shelf-edge stripping and risers.

Tesco's own-label cheese supplier, Adams Foods, has worked on the project for the past six months and analysed shopper purchasing behaviour in partnership with Dunnhumby, the data company behind Tesco Clubcard.

Although retailers typically merchandised cheeses according to flavour profile the research with Dunnhumby had shown shoppers wanted to buy first and foremost on price, said Adams director of sales Gordon Walsh.

"We had one clear objective - to make the range more simplistic for the consumer by delivering 'ease of shop' through pricing structure and merchandising."

As part of its range review, Tesco has also launched 17 new own-label snacking and processed cheeses, and expanded its entertainment cheese range from eight to 15 products.

"We've introduced some really exciting improvements to our cheese range, including a number of new products and an updated look and feel in store to make it easier for customers to choose their favourite products," said Tesco's new cheese buyer, Adele Davenall Gabain.