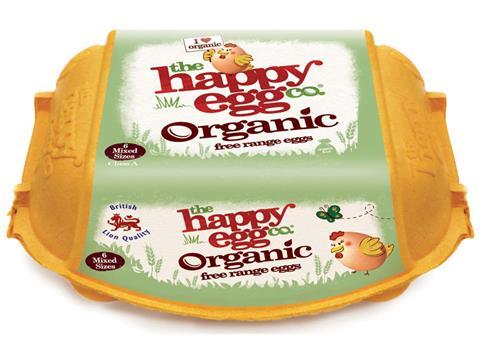 The organic egg sector is set to receive a boost from the country's biggest egg brands, with the Happy Egg Co launching its first-ever organic eggs next week.

Six-packs of Happy Egg Organic will go into Asda on 7 April, with listings in Tesco and Morrisons to follow in May. The packs will contain a mix of sizes and will be priced at about £2.20, compared with £1.70 for six standard medium Happy eggs.

Brand manager Rob Newell said sales of organic eggs had grown recently, providing "the perfect opportunity" for the Happy Egg Co to move into the sector. "The introduction of Happy Egg Organic puts us in a really strong position to take full advantage of this opportunity for the future growth of our brand," he added.

The new organic eggs will be supplied through three of the Happy Egg Co's 100 egg farms.

The launch of Happy Egg Organic comes as Noble this week refreshed the brand's packaging for the first since its launch five years ago, to better showcase its animal welfare credentials.

The new-look packs feature cartoon mascot hen Freda Roam on the front of egg boxes holding up a sign that displays statements such as 'Our girls have plenty of space to roam'. Also new are a silhouette motif featuring pastoral scenes on the exterior and details of nutritional content, a photograph of hens, and statements such as 'dedicated farmers' and 'trees for shade' on the interior lid.

The Happy Egg Co has redesigned its egg boxes as part of a wider refresh that also extends to its website, which has been given a new layout with greater emphasis on welfare, scientific research, products and recipes.

"After a successful five years, we are now revitalising the brand by building on how we communicate our key messages," said brand manager Caroline Beatty.