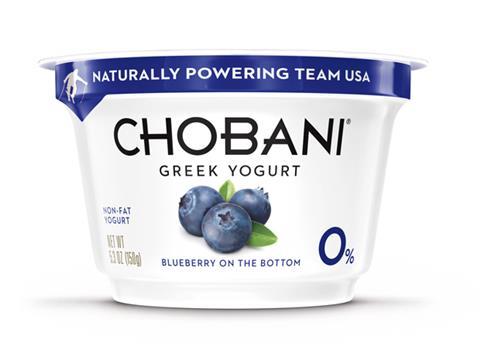 As the Winter Olympic Games kick off, US yoghurt giant Chobani is embroiled in an Olympian struggle all of its own - it is battling with Russian officials to get an export exemption to allow its yoghurts to be delivered to Team USA athletes competing in Sochi.
Russia does not allow imports of American-made dairy products, but Chobani – which sponsors Team USA – wants to supply more than 5,000 of its strained yoghurt pots to US athletes in Sochi.
It argues the yoghurts would be strictly for consumption by those athletes, and would not be made available on the Russian market more generally. "This is a time when the focus should be on our athletes, so we're just trying to do right by them in getting food they enjoy from home," it said in a statement. "As the official yoghurt of the 2014 US Olympic and Paralympic Teams, chefs and nutritionists have served Chobani to the athletes in the US Olympic Training Centers over the past several months."
The yoghurts are currently being held in cold storage in New Jersey, pending a decision from the Russian authorities, and Chobani has said it will fly them to Sochi via airfreight as soon as it gets the go-ahead.
Chobani's quest to get its yoghurts into Russia is being supported by US senator Charles Schumer, who said US regulators were ready to certify that Chobani's products met food safety standards and would be consumed by US citizens only. "Chobani is delicious, nutritious and safe – we need to get past 'nyet' and deliver it to our athletes," he said.
However, Russian officials said on Thursday (6 February) that dairy products could only be imported into Russia – as well as Belarus and Kazakhstan, which make up the so-called Customs Union with Russia – with the relevant veterinary certificates.
"Up to date, the US Department of Agriculture, despite a long history of talks, has not negotiated with the veterinary agency of the Customs Union's countries the approval of a veterinary certificate to export US milk and dairy products to its territory," the Russian embassy in Washington said.
"Naturally, a common sanitary certificate for such products, issued by the corresponding agencies of US Department of Agriculture, by no means cannot [sic] substitute an approved veterinary certificate."
Russian authorities had proposed a solution to the USDA, involving the certification of Chobani's yoghurts under a particular form of the Customs Union's legislation, but the USDA had declined to do so, "underlining that such measure might allegedly affect in a negative way the US position during further negotiations on approving dairy products' certificate, which the US exports to the market of the Customs Union's countries," the embassy said.
Chobani is the market-leading brand in the US Greek yoghurt market. It tried to sell its US-made yoghurts as 'Greek' in the UK, but was successfully sued by Total Greek Yoghurt maker Fage, which argued UK consumers would expect 'Greek' yoghurt to be made in Greece. The ruling, from early 2013, was last week confirmed by the UK Court of Appeal.
Chobani changed its UK packaging pending the outcome of its legal fight with Fage, but announced its withdrawal from the UK in late 2013, saying it would be back once it had its own UK-based production facilities up and running in 2014 or 2015.
However, it plans to continue pursuing its 'Greek' yoghurt battle in the meantime, by taking its case to the UK's Supreme Court.