Sometimes it feels like the past few decades have passed the frozen food aisle by. Of course, there have been noteworthy product developments in recent years (such as McCain Ready Baked Jackets and Birds Eye Stir Your Senses) but too often the products filling the freezers fail to inspire.
Of the 32% of Brits who believe frozen food is inferior to fresh, 10% cite a lack of choice of products, 12% claim the food they prefer to eat isn't available in the frozen format and 8% say there is a lack of decent brands to choose from [Harris Interactive].
"Too often the frozen food aisle seems like the place where food goes to die," says Dave Roberts, creative director at branding, design and innovation agency The Partners. "Some life needs to put back into the category. That needs to start with the products themselves and work its way out."
Fighting talk. So we've asked The Partners to come up with a range of frozen product concepts that would help bring the category into the 21st century, reflecting some of the trends shaping the wider grocery market at present. Here are the results…
F***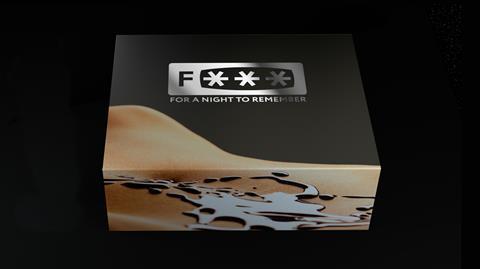 Try not to blush. This is a bid to attract young men – one of the least likely consumer groups to eat frozen ready meals, according to Kantar Worldpanel – into the sector. And you know what they say: there are two routes to a man's heart. One is through their stomach; the other's a bit lower.
"We wanted to do a Lynx Effect for food," says Roberts. "If you can make under arm deodorant sexy, why not frozen ready meals? These are luxurious, premium starters, main courses and puddings for a romantic night in with your loved one. It's about putting a bit of fun into eating frozen food."
Dishes would feature 'aphrodisiac' ingredients, such as oyster, chilli and chocolate. And forget about plates. Hollandaise asparagus, chocolate dipped strawberries and kirsch-soaked cherries would be for feeding to your partner. Extra-long spaghetti would be for slurping a la Lady & The Tramp.
Now we're off for a cold shower…
FastBrek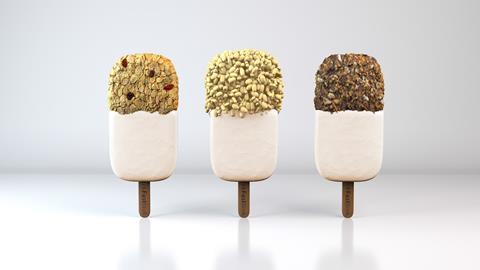 Ice cream for breakfast? Not quite. This is frozen yoghurt encrusted with nutritious breakfast cereal, aimed at giving kids in a hurry a healthy start to the day that they'll look forward to. But, still, it looks just like a lollipop.
"What kid doesn't want ice cream, or in this case frozen yoghurt for breakfast?" says Roberts. "FastBrek is a bowl of cereal on a stick. The idea is that this is delicious but healthy and quick and easy for parents and can be eaten on the go."
Convenience is the key selling point for this product. While most frozen food products need some preparation before they can be consumed, FastBrek – pictured here in fruit & oats, yoghurt pieces and granola variants – can be eaten straight from the freezer
Frozen Workout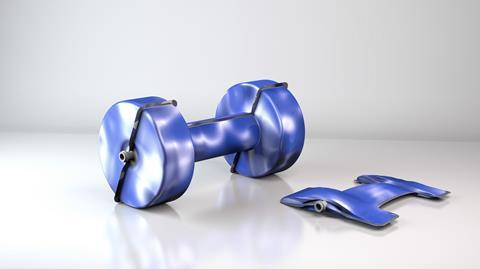 Sales of sports nutrition products are booming in the supermarkets at present. Could a concept such as The Partners' Frozen Workout help the sector win a slice of the protein enriched pie?
"The frozen food cabinet, pardon the pun, is stuck in the ice age," says Roberts. "Health and wellbeing is a big trend and this would capitalise on that. Here's a protein smoothie that takes out all the hassle of mixing shakes and measuring powders. These specifically weighted shakes are specially designed to be used as reusable dumbbells and defrost while you work out."
So, two birds; one stone. Plus, once the dumbbell has been emptied it packs flat, allowing it to be carried home easily and refilled ready for the next work out. What's not to like?
Froozies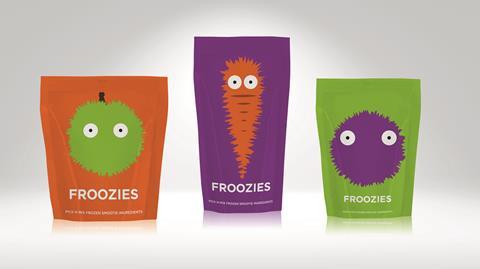 Need help getting your child to eat their five a day? Froozies could be the helping hand you need, provided you're one of the thousands who have bought into the latest nutrition trend and got yourself a Nutribullet.
"We all know Nutribullets have become very popular this year," says Roberts. "Froozies is a pick and mix range of frozen smoothies ingredients, which can be taken straight from the freezer at home and mixed up to provide a nutritious smoothie."
Granted, there's nothing new about frozen fruit or veg. But Roberts says that where this concept differs from what is already out there is how they are designed to be consumed and the packaging. The latter is particularly important, he says.
"You walk down the frozen food aisle and you get a big block of orange, that's the frozen chips, a big block of green, the frozen peas , and a block of white, the ice cream," he says. "Products could be doing more to stand out and be a bit more proactive."
Back to: Posh fish helps frozen sales thaw
Forward to: Birds Eye ad spend up 70%
With studios in London, New York and Singapore, The Partners delivers brand strategy, innovation and creative ideas for clients including Deloitte, Vodafone, Coca Cola, Investec, Argos, The National Gallery and eBay. Over its 30-year history The Partners has won a host of distinguished industry awards, including 17 D&AD Pencils, and is the only brand agency to have won three Gold Lions at Cannes. The Partners is part of the WPP group. www.the-partners.com