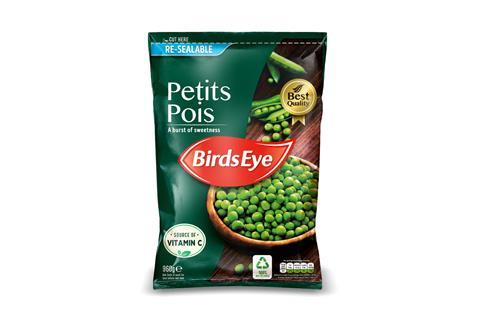 Birds Eye has announced a move to recyclable packaging for some of its frozen vegetable lines as part of a wider Nomad Foods bid to make all consumer packaging fully recyclable by the end of 2022.
From this month into the beginning of 2021, the frozen giant's Field Fresh, Garden Peas and Petits Pois SKUs will move to recyclable plastic, which Birds Eye said could be recycled at the front of larger supermarkets.
Pack sizes will also be reduced while keeping the same amount of vegetables and components such as zips would be replaced with a new press-to-close function, it said.
Birds Eye said the updates would remove approximately 379 tonnes of non-recyclable materials from the market annually.
"This is the culmination of a thoroughly thought-out process, balancing our sustainability targets while retaining the elements that shoppers look for in our products," said Jess Ali, senior marketing manager for vegetables at Birds Eye. "We know consumers want to see a reduction in plastic used by brands, yet also value the practical, resealable functions of our bags.
"We've therefore made a deliberate effort to find a more sustainable solution, adopting a press-to-close function, which will help shoppers to keep their freezers tidy while reducing the amount of plastic we use across the range."
The brand also has plans to move to recyclable materials for the whole of its vegetable range over the next two years, including the Steamfresh range.
Birds Eye's move follows that of its major frozen seafood rival Young's, which met its own plastic and paper reduction targets in October.