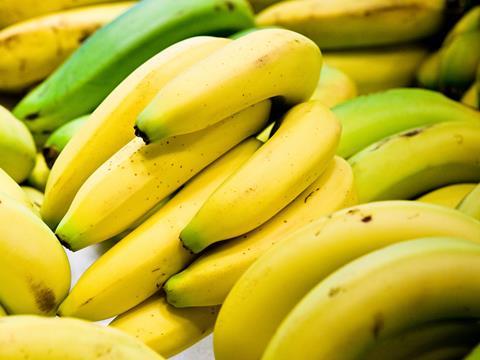 Plans by Aldi to cut the price it pays South American banana growers could prompt similar moves by other retailers and plunge the sector into crisis, grower representatives have warned.
Buyers from Aldi Süd and Aldi Nord are aiming to shave as much as one euro off the price of an 18kg box of bananas for 2019, The Grocer understands.
With the price of a box ranging from between €12-€15, such a cut could represent up to a 15% drop in the price paid to growers. Tesco teams up with WWF to make shopping both affordable and sustainable
If suppliers agreed to the cuts, it would also set a dangerous precedent and pave the way for similar price drops by Aldi's rivals, warned Jorge Acosta Orellana, general co-ordinator of Ecuadorian trade union ASTAC (Trade Union Association of Agricultural and Peasant Banana Workers).
Price cuts could also result in thousands of workers losing their job security as growers struggled to meet the "exploitative" costs of the discounter, he said.
Aldi UK, owned by Aldi Süd, declined to comment specifically on the price it paid for its bananas, citing commercial confidentiality. But it insisted it paid a fair price to its suppliers, highlighting it sourced all its crop from Fairtrade or Rainforest Alliance certified farms and was the top rated retailer for GSCOP compliance for five years running.
However, in response, Orellana told The Grocer that while the Rainforest Alliance had a duty to certify plantations' credentials, it "cannot guarantee that rights are respected" as it does not enforce a minimum price for certified crops.
Dignified wage
"Lower prices will translate into lower wages," added José Giler of the Guayas Banana Workers' Association. "We would urge the supermarket to reconsider. Already, the majority of workers do not earn a dignified wage."
South and Central American nations could come together to fight the cuts, suggested Juan Camilo Restrepo, president of Colombia-based Augura (the Uraba Banana Producers and Exporters Association).
The Colombian minister of agriculture and rural development Andrés Valencia had pledged his support to growers and workers, planning to appeal to the EU through diplomatic channels, he added.
"By cutting the price it pays, Aldi would put at risk the thousands of farmers and workers who depend on the bananas to make a living and feed their families," said ethical trade manager at Oxfam, Rachel Wilshaw.
"It would also throw into doubt the commitments Aldi recently made to reduce the human rights risks for the people who grow and produce its food."