Growers – and Lidl – argue wonky veg ranges are not the answer
Drought has now been officially announced in 11 of 14 Environment Agency areas in England, a "hugely challenging [situation] across all farming sectors," says the NFU.
That's prompting calls for more flexibility from retailers, with growers warning for weeks that, as well as crop shortages, it will lead to food waste when crops fail to meet supermarket specifications required for sale.
All crops sold in the UK must meet governmental horticulture marketing standards, but retailers also set their own specifications, which "may be somewhat higher", says Fresh Produce Consortium CEO Nigel Jenney. Those specifications have long been criticised for their focus on the appearance of fruit and vegetables rather than the taste.
And a number of supermarkets introduced so-called wonky veg ranges, specifically for out-of-spec produce, following the launch of the NFU fruit & veg Pledge in 2015, which called on the produce sector to work together better.
But those ranges don't go far enough to address the issue, growers argue and flexibility is even more important in times of crisis "to ensure that quality, nutritious produce can continue to make it to shop shelves and avoid perfectly good food going to waste" according to NFU vice president David Exwood.
Enter Lidl
So news that Lidl was offering to be flexible in product specifications by taking stunted crop that "may look and feel a bit different to what shoppers are typically used to" was music to the ears of growers. And the discounter pointedly rejected the notion of classifying it as wonky. "Whilst some supermarkets have chosen to create a separate 'wonky veg' label for items that don't quite fit a certain specification, we don't believe in creating a false market," said Lidl GB CEO Ryan McDonnell. Instead, Lidl is accommodating the drought-affected crop in existing ranges.
The strategy has been welcomed by the sector. Julian Marks, MD of fruit & veg supplier Barfoots, says "opening specifications up is a good thing to do – it is all about yield back to the field".
Lidl's not alone in its approach.
The Co-op also doesn't have a specific line for misshapen fruit & veg, but instead "offers flex spec on all fruit & veg lines, which equates to approximately 300 lines in the range", a spokeswoman says. Other fruit & veg retailers such as Riverford have also been more flexible with specifications for a number of years.
But examples of such flexibility are few and far between. On the same day that Lidl was announcing its plans, Waitrose responded to grower pressure by vowing to offer more support through expanding its 'A Little Less Than Perfect' range – in other words, adding more drought-affected crop to its wonky veg range. It also said it would divert misshapen veg into own label soups, smoothies and ready meals.
Other retailers – Tesco, Sainsbury's, Morrisons and Asda – are in the same camp as Waitrose. But pledges and strategies of this kind are tokenistic say growers.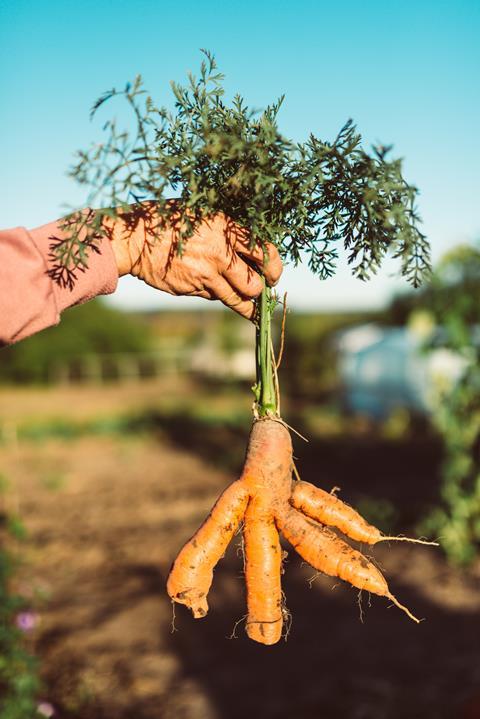 'Wonky' pushback
Even in ordinary circumstances wonky veg ranges have attracted criticism from farmers because growers get paid substantially less for the produce despite input costs remaining the same. But current drought conditions add insult to injury.
"That is not what growers need," says Ali Capper, chair of British Apples & Pears. "They need their main pack specifications to be extended to enable the drought affected crop to be sold at a proper price, not below the cost of production."
It's not just a matter of payment. There are also concerns the concept of wonky veg perpetuates consumer misunderstanding of food production. Jack Ward, CEO of the British Growers Association, believes it "trivialises what is an important issue not just for growers but for retailers and consumers".
He says: "Perfect appearance requires perfect conditions, but increasingly the weather or the climate or the planet is not capable of delivering those perfect conditions. We have to get used to the fact that perfection in vegetable & fruit production may become an elusive goal."
Jenney believes consumers are "beginning to accept and appreciate that fresh produce is not manufactured. It is carefully grown with dedication and care by thousands of growers and in many respects, it is open to the prevailing elements."
But despite recent data from Dash Water suggesting 87% of consumers would eat wonky, misshapen produce, Jenney says encouraging consumers to be more flexible over the appearance of produce remains "the biggest challenge in some respects" facing the sector.
Others in the industry echo concerns that consumer expectations are not changing fast enough due to "generations of conditioning" by the supermarkets, which will take time to unpick.
As climate change-driven adverse weather conditions persist, Ward believes the industry must be more "honest with consumers" rather than pretending that perfection is normal. He notes: "We could be facing this again next year but in a different way, like flood."
It makes it impossible for growers to "mysteriously deliver something for a colour specification that was designed in a boardroom", he says.
"By classifying them as wonky veg we are saying that the norm is perfection but what I am saying is that perfection is going to be difficult and misshapen veg will become the norm."
Waitrose said it was talking to growers weekly about the drought's impact and continually reviewing and adjusting specifications. It said its wonky range gave growers a way to sell affected produce at a fair rate and get it to customers' plates rather than sent for processing or animal feed.