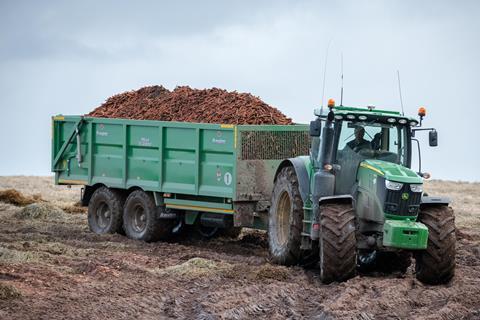 British carrot growers have warned of tight supplies after enduring months of rainfall and flooding.
The UK crop could be short by as much as a fifth, according to one grower, with machinery struggling to operate in sodden soils and crops degraded by moisture.
"We have had such awful conditions that I'd bet we've lost up to 20% of the crop by stealth," said Martin Evans, chair of the AHDB field vegetable panel.
"We rely on being a really efficient industry but we've been breaking extra carrots through not working the harvesters harder due to having to separate the soil out. Likewise, tractors haven't been able to run where they should be, which has broken a few more. It all adds up."
There are also now concerns around planting for this year's crop. Evans, who farms in the particularly rain-affected area of Nottinghamshire, said he only started drilling new crops at the beginning of March, when he would usually begin in January.
"The way the weather's been, it's probably been the right decision because if we had drilled, we'd have had poor crops as they would have been hanging around in poor conditions," Evans added.
This delay could see growers in the Midlands and the north struggle to deliver crops this summer, according to Rodger Hobson, chair of the British Carrot Growers' Association.
"This time last year, I had a quarter of my crop planted. All my earlies were in. Up in the north, we're going to be stretched with our early crop for July. Down in the south east, they did a bit better getting everything in during January's dry spell."
It comes as growers count the cost of one of the wettest winters in recent memory.
AHDB described last autumn as the UK's wettest since 2012, with the Met Office's weather station in Sheffield recording its highest rainfall since 2000.
These poor conditions have been compounded by further wet weather in 2020, with February breaking the all-time record for rainfall.
Potatoes were particularly affected, with processors describing the 2019/20 crop as one of the worst in 40 years.
Meanwhile, wheat prices could be set to rise as the UK has seen its lowest growing area for the crop "since the late 1970s", according to the NFU.