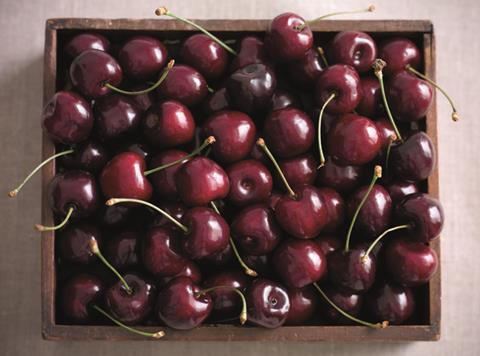 British cherry growers are predicting a record breaking yield of 4,500 tonnes for the 2015 season.
The British Cherries Industry Body (BCIB) said an upsurge in consumer demand, and a younger generation of farmers embracing advances in growing techniques, had helped propel the sector to a predicted 12.5% increase in production compared to last year's yield of 4,000 tonnes.
To date, less than 10% of the predicted 4,500 tonne haul has been picked, with the next few weeks tipped by the BCIB to be the biggest for cherry production.
Sales for this season – which runs until early September – are also predicted to hit record levels, up from £27m last year to £32m, said the industry body, which represents more than 70% of UK growers.
This is in sharp contrast to the 1960s, when traditional Kent cherry orchards were phased out because of low yields, while supermarkets turned to imports from Turkey, Spain and the US.
But with the industry moving away from towering cherry trees to smaller trees with dwarfing rootstock often grown in polytunnels, and an average age some ten years younger than the farming industry as a whole, cherry farmers were now at the forefront of farming innovation, claimed the BCIB.
More and more work was being done to extend the short British season, it added, with grower Tom Hulme of Kent-based AC Hulme & Son noting that the tunnels protected the fruit from the worst of the British summer while the dwarf trees "much easier to pick, manage and protect from birds".
And after an apprehensive start to growing the crop in 2005, "it has now become a hugely popular fruit – we just can't keep up with demand which is encouraging as you know nothing is going to waste", he added.