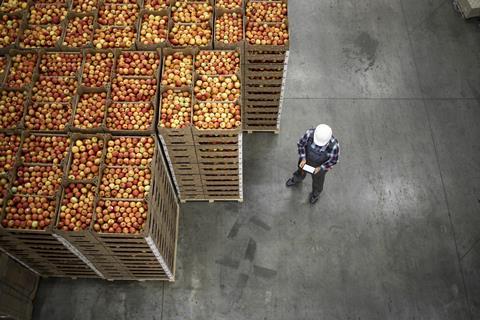 Soaring energy prices have been described as a "complete disaster" by the boss of leading grower Barfoots, and many fruit & veg suppliers are now considering their future, industry experts have warned.
Despite a host of energy saving strategies, Barfoots had seen "a threefold increase" in energy costs in parts of its business in recent months, said MD Julian Marks.
This had forced the supplier to significantly reduce activity at one of its production sites, he added, while it was also in the midst of price negotiations with retail partners in a bid to pass on increased costs.
A sector already struggling with inflationary pressures and labour issues was now being "seriously impacted" by rising energy prices of up to 300% year on year, said British Apples & Pears chair Ali Capper.
However, getting price increases through was now "very, very difficult", with some retailers even suggesting fresh produce prices should fall, rather than rise, in light of the cost of living crisis, she added.
According to farm inputs supplier AF – which arranges energy supplies to 8,000 UK farm sites – electricity costs have risen by 100% in the past month alone, on top of "meteoric rises in spring and early summer".
"The impact on farm overheads is serious," said AF CEO David Horton-Fawkes. "High energy users such as fresh produce cold stores and protected cropping are confronting a terrible reality."
The "insurmountable rises" mostly came from cold storage, as many crops – including brassicas, apples, onions and potatoes – required chilling before going to retail, said British Growers Association CEO Jack Ward.
And with cold storage costs so high and likely to rise further, Fresh Produce Consortium CEO Nigel Jenney suggested many growers would look to get crops into retailers sooner to mitigate the situation.
This, however, could result in a rise in imports as the UK would "have to look at alternatives of sourcing" thanks to domestic produce getting used up earlier in the season, he suggested. Jenney and Capper are among industry leaders now calling for government support to limit rising prices via an energy price cap.
This was something fresh produce in particular desperately needed, added Jenney, as fruit & veg was "generally modestly valued", making energy costs "very substantial cost drivers of the goods themselves".
However, Ward warned the sector had to be "realistic" about government support, pointing out "everyone is shouting at the government to do something.
"It would be lovely to have a cap, it would be lovely to have a handout [but] it is important we have a more rational conversation about how we can support growers."
His comments were echoed by Marks, who described hopes of government intervention as "entirely unrealistic" and said farmgate fresh prodeuce prices would instead have to rise.
And without either rising farmgate prices or government support "growers are not going to [be able to] fund" rising costs, Jenney added.