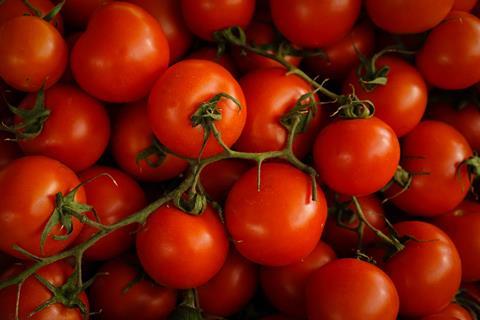 Growers and campaigners have cautioned against the rapid adoption of new gene editing technology after the government introduced new legislation on the issue.
A new, post-Brexit Genetic Technology (Precision Breeding) Bill was introduced to parliament yesterday in an attempt to "cut red tape" and support research into gene editing technology, "which for too long has been held back by the EU's rules", according to Defra.
The bill would also enable innovation and help boost food security, Defra added.
However, Philip Morley, technical executive officer of the British Tomato Growers' Association, warned there had been a lack of consultation with the food sector on the government's plans – leading to "a disconnect between the scientists, who are doing the research in their labs, and the growers, retailers and consumers".
"I know it is interesting and it sounds really sexy but this is a major national conversation we need to have if we are going to be pioneers in that technology, not just for fresh produce," Morley added.
His comments were echoed by Liz O'Neill, director of GM Freeze, a non-profit that campaigns for a moratorium on GM farming in the UK, who warned that unregulated gene editing was "a food crisis in the making" as "gene editing is GM with better PR".
Meanwhile, Soil Association policy director Jo Lewis described the decision to prioritise the bill over the food bill, meant the government was "casting about for silver bullets".
"We are deeply disappointed to see the government prioritising unpopular technologies rather than focusing on the real issues – unhealthy diets, a lack of crop diversity, farm animal overcrowding, and the steep decline in beneficial insects who can eat pests," she added.
"Instead of trying to change the DNA of highly stressed animals and monoculture crops to make them temporarily immune to disease, we should be investing in solutions that deal with the cause of disease and pests in the first place."
The legislation comes in the same week it was revealed scientists at the John Innes Centre in Norwich had created tomatoes that boosted the body's vitamin D using gene editing techniques.
Environment secretary George Eustice claimed the techniques would allow the UK to "speed up the breeding of plants that have natural resistance to diseases and better use of soil nutrients".
NFU vice president David Exwood agreed the new technology would "provide farmers and growers with another tool in the toolbox as we look to overcome the challenges of feeding an ever-growing population while tackling the climate crisis".
But the BTGA's Morley urged caution. "This is the beginning, and is the foot in the door, the opening conversation and if we make a mistake now then that is a mistake that we live with forever.
GE 'different' to GM
Defra scientific advisor Gideon Henderson stressed gene editing was different to genetic modification, where genes from one species are introduced to another.
He also emphasised the bill was currently limited only to legislation on plants and "no changes will be made to the regulation of animals under the GMO regime until a regulatory system is developed to safeguard animal welfare".
However, in the announcement of the bill, a move to gene editing of animals was not ruled out in the long term. And there is concern this may open the door to further research without proper checks being put in place first.
"Selective breeding has already pushed farm animals to such fast growth and high yields that many suffer from painful health problems," said Compassion in World Farming chief policy advisor Peter Stevenson.
"This new bill is poised to make such problems much worse and will pave the way for animals to be kept in even more crowded, stressful conditions than at present."
Morley said: "It is a huge topic, and it will involve every crop, every livestock sector, every human being ultimately when we get into the realm of gene editing humans".
And on the topic of GE tomatoes, he stressed there were still many opportunities to look at natural processes in tomato production to boost nutritional values – something many growers were doing, particularly when it came to using light.
He argued these natural explorations could potentially deliver far more benefits than any chemical intervention for human health.
GM Freeze's O'Neill said: "Supermarket shelves are already packed with excellent sources of dietary vitamin D: from oily fish, eggs and red meat to fortified cereals and an array of supplement choices.
"Adding an obscure tomato to that list won't address the problem of vitamin D deficiency because poor nutrition is a function of poverty and a broken food system. We need system change, not GM ketchup."