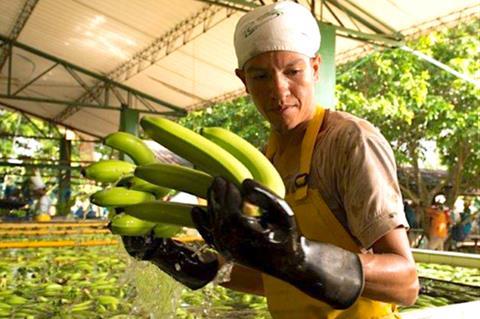 Fyffes has announced a human rights mitigation action plan following the completion of an audit earlier this year.
The produce supplier said the plan would provide a framework through which it could manage, mitigate and resolve risks to human rights in its supply chain.
Based on an assessment by NGO Business for Social Responsibility in January, the company said its plan had seen it take immediate action on employee access to a grievance mechanism, child labour, migrant worker labour violations and forced labour.
Fyffes added it would do more to ensure no child exploitation or migrant worker rights abuses took place in its supply chain.
The supplier has been accused of exploitation and abuse of workers in the past – though it has always denied the claims. It was also expelled from the Ethical Trading Initiative in 2019 over allegations it breached the ETI's code by refusing to respect workers' rights to freedom of association.
"Fyffes' Global Human Rights Policy and Statement, sets out our commitment to protecting the human rights of all our stakeholders, including our employees. This policy is brought to life through training and internal protocols," explained global director of sustainability, Julie Cournoyer.
"We would like to thank BSR for conducting the assessment and all those employees and stakeholders who contributed to the assessment through interviews. Fyffes has started work already on implementing our human rights mitigation plan and will provide annual updates of the Human Rights Impact Assessment."
Other areas Fyffes' new action plan covered included gender equality, wages and health and safety.
BSR's analysis, which took in Fyffes' operations in Belize, Colombia, Costa Rica, the Dominican Republic and Honduras, found the company had strong management systems in place to tackle risks such as freedom of association and working hours.
It found the Dublin-headquartered firm was in the process of strengthening visibility and oversight of the working conditions of its contracted and temporary workers.