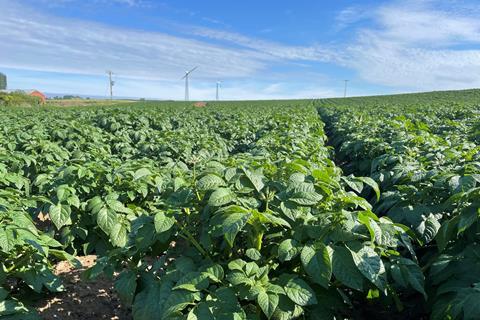 A new report supported by McCain Foods has called for government action to help farmers adopt regenerative farming practices.
The report, Sowing Resilience: A Policy Framework to Expend Regenerative Farming, from think tank Demos, argued regenerative farming could improve food security, help tackle climate change, advance the UK's biodiversity and boost profits for British farmers.
It has outlined three key barriers to expanding regenerative methods faced by farmers across the country: poor financial incentives to transition, caution about shifting methods and difficulties in implementation.
"Recent global events have exposed just how precarious food security in the UK is," said Dan Goss, researcher at Demos and report co-author. "With climate change and biodiversity loss set to make things even worse, and British farmers struggling in the wake of Brexit and in the face of a looming food crisis, the government needs to pull every lever it can."
The report has recommended that more financial support could be paid to farmers to cover transition costs by increasing Sustainable Farming Incentive management payments. This scheme should be guaranteed for at least seven years, given the time that regenerative farming takes to restore profits, it suggested.
Additionally, it recommended the appointment of a government-led regenerative farming taskforce and peer-to-peer regenerative farming learning groups to bring together key stakeholders and representatives.
Its final recommendation was the development of core standards for food imports with regenerative principles to protect UK farmers from cheaper imports grown with lower environmental standards.
Demos' findings revealed that while most people (seven out of 10) were not familiar with regenerative farming, there was strong cross-party support for it in principle, with 69% of Conservative voters and 68% of Labour voters in favour of its widespread adoption.
"We have committed to implementing regenerative agriculture practices across 100% of our global potato acreage by 2030 and are working closely with our growers to achieve this goal," said James Young, VP of agriculture at McCain Foods GB. "We're providing financial support, trialling regenerative practices and facilitating knowledge sharing through our demonstration farms, and collaborating with industry through forums such as the Sustainable Markets Initiative."
It comes as potato supplier Branston's this week announced its Net Zero potato project is now in its second year and is working to establish a process that will achieve the lowest possible greenhouse gas emissions while still producing a commercially viable crop. This year's focus for the trials is on optimising crop nutrition by reducing the focus on nitrogen fertiliser.