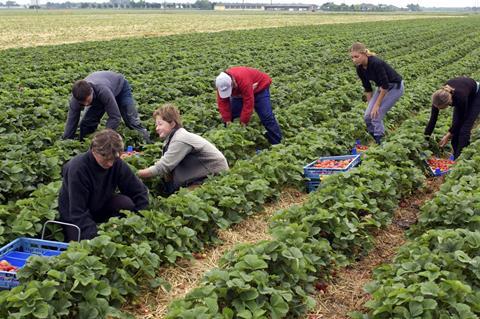 Seasonal worker pay will this year be in line with the national living wage rather than at a premium, the government has announced.
Speaking at Tuesday's NFU conference in Birmingham, farming minister Mark Spencer delivered a welcome boost to growers, who will no longer be expected to pay the premium of previous years. Instead, they will pay the national living wage rate of £10.42 an hour.
The announcement was welcomed by delegates as "great news" for growers facing crippling input cost inflation.
The former need for a premium – which last year stood at £10.10, above the previous living wage level of £9.50 – was described as "nonsense" by Nick Marston, chairman of British Berry Growers, who added "it was great that government has [now] listened".
The announcement was also welcomed by recruiters. Hiring staff would become "a lot less complicated", suggested Jan-Willem Naerebout, director of Agri-Hr – one of the new licensed recruiters for the seasonal worker scheme.
"All growers will breathe a massive sigh of relief," suggested Ali Capper, chair of British Apples and Pears, as concerns over additional costs from pay inflation were "the most important thing for growers in the sector going into this growing year".
Her comments were echoed by NFU Horticulture and Potatoes Board member Derek Wilkinson, who said he had been "really worried these last few months" over the potential impact of a rise in wages on the already stretched finances of farmers.
Concerns over wage inflation had been exacerbated by supermarket pricing negotiations, Wilkinson added.
"A lot of our prices are negotiated in January or February, and if suddenly they had announced a 60p per hour premium, that would have been disastrous. That's exactly what the government did last year and we had to go back and renegotiate," he explained.
However, seasonal labour concerns have not been completely resolved, according to Capper, as "we haven't seen it in writing, and from my experience the devil is in the detail".
There are also concerns over how long workers can stay in the country under the scheme. Marston said it would be "hugely helpful" if workers could be in the country for nine months instead of six, as it would boost productivity.
The rule stipulating workers have to be out of the country for six months before returning was also hampering the start of harvest, he added, as workers who left in late autumn would not qualify to return.
Marston suggested this limit be reduced to three months. "Given the rules for the seasonal worker visa scheme are entirely in the Home Office and the government's gift I am sure they can ensure that could work," he added.
This sentiment was repeated at the NFU conference's horticulture and potatoes board commodities meeting, where growers also called for a reset to the timings as – due to delays in sourcing replacements for Ukrainians impacted by the war with Russia – many seasonal workers cannot come back until later this spring, leaving early crops potentially still short of pickers.
staff shortages are also a concern due to the Home Office's recent revocation of fellow scheme recruiter AG Recruitment. Naerebout said Agri-Hr was attempting to facilitate replacement staff. However, for early season growers it was proving to be a very tight turn around.
AG's allowance was 7,500 visas and "now those growers have found themselves without an operator and I think for quite a few people a bit of panic has kicked in".
He said he had received "a lot of calls" from growers needing staff in the next few weeks to replace those hired by AG.