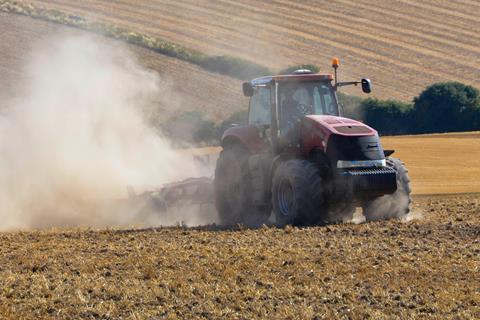 Growers have warned of potential crop failures and shortages over the crucial summer harvest period due to the impact of a now prolonged dry period, worsened by the recent heatwave.
With the UK experiencing a period of extreme heat this month, culminating in record highs of more than 40°C being recorded in some parts of the country on Tuesday, crops that could be impacted include oats, grains, brassicas and some top fruit such as apples and pears.
Philip Rayner, owner of grower and oat milk supplier Glebe Farm, told The Grocer many farmers' spring drilled crops were "struggling with heat and finishing too early and shrivelling up". He warned the situation could ultimately lead to price increases and quality issues.
While the scale of the damage to the pat crop was currently unknown "until samples of crop come in", the impact of the heat "may be quite large due to the amount of spring oats used" by growers, he added, noting how it was due to be harvested in the next few weeks.
Julian Marks, MD of Barfoots, warned the heatwave could also cause problems for autumn harvests which are currently in the early stages of growth.
Crops such as brassicas "try and bolt and go to flower" under the kind of stress they were currently facing, suggested Marks.
"We are certainly seeing that in some crops at the moment," he added. "Essentially [when] we have got temperatures like this, crops will shut down and it doesn't really matter how much water you give them, the temperatures prevent them from continuing to grow."
Top fruit yields were also likely to be affected, according to Ali Capper, executive chair of British Apples & Pears, who said that hot weather was "good news for the crop until temperatures start to exceed 30°C. Very hot and very sunny days can cause stress to orchard trees and bright hot sunshine can scorch certain fruits."
And for many crops, the heat was one part of a "double whammy" alongside prolonged dryness, the impact of which was already "pretty serious", Marks added.
"We are into the final thirds of the availability of winter-stored water and any summer abstraction that we are allowed from the rivers is becoming more difficult as flows reduce," he said. "Extreme temperatures are making life difficult. It doesn't matter if you have enough water or not. It is making life difficult for those crops."
The warnings come as many crops had only seen about 50ml of rain in the last 180 days, creating a "desperate" situation for many growers, he pointed out.
Rayner echoed the overarching issue of dryness becoming more of a problem, particularly in recent years due to climate change, which was making things "very difficult and challenging".
However, the heatwave has boosted production of some crops such as cherries which are experiencing a surge in production, leaving growers with between 10% and 15% more crops than they anticipated. In order to avoid waste, Tesco announced last week it would start selling kilo boxes of the fruit at the discounted price of £5 each (instead of £7.50).
Though there are also other issues for berry growers, despite the weather not negatively impacting growth.
Pickers "have to start early – usually at 5am – to get crops picked by around noon before the day heats up," said Nick Marston, chairman of industry body British Berry Growers. "Pickers may then go back out in the evening to do another couple of hours.
"It is also critical that berries are taken off the field quickly and cooled to maintain quality and shelf life – again growers will run fruit back to the cold store much more frequently during a heatwave," he added.
A reduction back to normal seasonal temperatures was now needed to protect crop growth, said Marks, and "if that happens within the next few days, the damage will be limited. If we get a prolonged period now of, say another 10 days, then the implications for the autumn are going to be pretty dramatic."