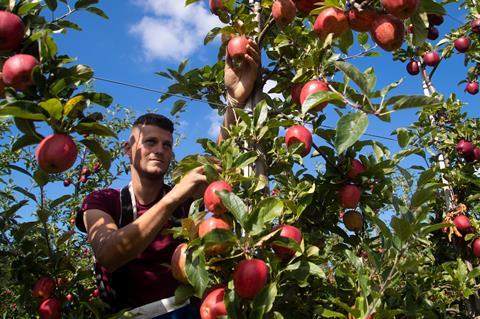 The Conservatives have pledged to quadruple the number of workers on the Seasonal Agricultural Workers Scheme pilot if they are returned to office in December's general election.
The plans, first revealed by the Sunday Telegraph, would see the number of non-EU workers allowed into the UK for temporary work to be increased from 2,500 to 10,000 in 2020 if the Tories formed the next government.
It comes a month after The Grocer exclusively reported that "thousands of tonnes" of fruit and vegetables had been left to rot in fields after migrant workers either failed to arrive or left early due to Brexit uncertainty.
The news has been welcomed by the growing sector, with CEO of the British Growers Association Jack Ward describing it as a "very positive interim step".
However, Ward warned that more needs to be done to ensure the sector has enough labour.
"What we need to do now is work out what the long-term immigration policy is going to look like and see how it fits together with the seasonal workers scheme," he said.
"Between the two of them, we need to make sure we've got adequate people available to harvest crops."
Previous estimates from industry figures suggest the UK needs between 70,000 and 80,000 agricultural workers a year.
The proposed extension to the pilot was met with similar cautious optimism by British Summer Fruits chairman Nick Marston.
"We should be mindful that while [the announcement] is extremely welcome, this increase only addresses the current shortage of staff in our industry," he said.
"Further increases will be needed in the medium term if UK horticulture is to continue producing the fresh berries and produce British consumers love to buy."
The two-year Seasonal Agricultural Workers Scheme pilot was first announced in September 2018, five years after the original scheme was scrapped by the coalition government.
In April this year, it was announced two contractors would run the scheme – recruitment agency Pro-Force and volunteering charity Concordia.
Speaking to The Grocer in October, Concordia CEO Stephanie Maurel said the SAWS pilot could be upped to 10,000 workers "in a heartbeat".
"[The pilot] is not made to solve a shortage of labour, it's meant to prove that as a sector we can run a scheme involving visas," said Maurel.
"We have proved absolutely we can run it. We haven't had a single visa refusal and our overseas partners are absolutely nailing the way they're interviewing and getting the right people to come to the UK."
Maurel said most of the workers involved in the pilot thus far had come from Russia, Ukraine and Moldova.