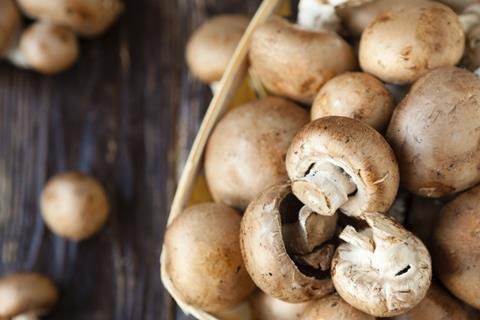 Mushrooms have received a sales boost during lockdown, with volume sales up by more than a fifth.
New figures from Anglo-Irish grower body the Mushroom Bureau showed the mushroom category welcomed 1.2 million new customers in the initial phase of lockdown, with volume sales up 22% across the mults compared to the same period last year [Kantar 4 w/e 19 April 2020].
According to the organisation, the increase in volumes came about due to the rise of in-home cooking occasions seen during lockdown and consumer demand for healthier foods.
"Fresh produce retail sales have been higher with increased home cooking, and mushroom sales have increased as a result," said a Mushroom Bureau spokeswoman.
"As the [coronavirus] crisis has deepened consumers have moved to find 'new' ways to boost their immune system. There has never been a better time to extol the nutritional benefits of mushrooms."
The trade body also pointed to the surge in interest in plant-based foods as a reason for the increase in volume sales. A recent survey commissioned by the Mushroom Bureau suggested 37% of consumers identified it as the most versatile vegetable for a plant-based diet.
The news comes a matter of months after the Mushroom Bureau published a report showing a quarter of all fresh mushrooms sold in UK supermarkets had travelled in excess of 800 miles, despite UK and Irish growers having the ability to supply the entire market.