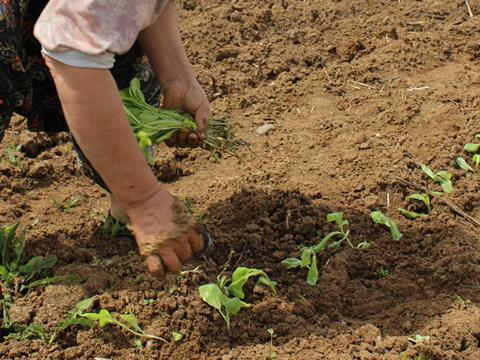 Farmers and growers have welcomed the government's decision to pilot a Seasonal Agricultural Workers Scheme, but warned it won't be enough to solve the labour crisis.

Defra and the Home Office today (6 September) revealed plans for a two-year trial allowing 2,500 non-EU workers into the UK. The scheme would grant entry for up to six months per year to ease pressure on fruit and veg growers, they said.

The pilot scheme would help to ensure growth in the horticulture industry and keep the UK at the forefront of the next agricultural revolution, said Defra in statement. But it stressed the SAWS scheme would be a short-term fix, suggesting the industry must invest in technological advances to reduce labour demand in the long term.

The UK agriculture industry has been pressing for a SAW scheme amid fears Brexit could lead to a shortage of seasonal workers. Currently, about 70% of the UK's 80,000-strong horticulture workforce come from Romania or Bulgaria, according to the AHDB, while just one in 1,000 are British.

The NFU, which submitted evidence to a government consultation showing UK food producers were already hamstrung by a shortage of workers, hailed the news a "major victory" for farmers, growers and the public.

"Farmers and growers have seen worker availability tighten significantly in recent years, with the shortfall to July this year reaching 10%. Growers will take great confidence in knowing that the government is listening during what have been extremely testing and uncertain times for the sector," said NFU president Minette Batters.

NFU Scotland described the move as a "step in the right direction", but acknowledged 2,500 permits left the pilot "significantly short of what is likely to be needed to make a difference to the labour needs of the sector".

"Problems in securing sufficient numbers of seasonal labour have been a major factor in high-value crops of Scottish soft fruit & vegetables going unpicked in the past two seasons," said NFU Scotland's horticultural chairman, James Porter.

"The devil is likely to be in the detail but, providing the pilot scheme can prove itself to be flexible and responsive to the likely numbers of seasonal workers required, then it could be a positive move in addressing the challenge of finding seasonal staff for Scottish farms in 2019 and beyond."
'Not enough'
However, Nick Marston, chairman of British Summer Fruits, questioned whether the SAWS scheme went far enough.

"UK horticulture employs 60,000 seasonal staff from the EU annually, with berries alone accounting for 29,000 workers," he said. "Our farms are reporting staff shortages of 10%-20% already, and to have any effect in terms of supporting our successful industry around 10,000 are needed now.

"This number will have little effect on the current shortages UK farms are facing as we speak," he added, pointing out that Germany offered 60,000 permits to Ukrainian seasonal workers in 2018. "The proposal represents a 4% increase in a shrinking workforce, the UK berry industry grows by at least 8% per annum and this will not sustain a standstill, let alone growth."

There was still "work to be done", agreed executive chair of English Apples and Pears, Ali Capper. "The Government's announcement is a promising response to a powerful argument that a shortage of workers will jeopardise our future and is recognition that UK orchard fruit is a success story," she said.

"Volumes grown here are up by 27% since 1997 and we're predicting more growth for the future. We need more than 11,500 seasonal workers by 2021 to keep pace with a crop that is set to grow.

"Right now, the pilot permits us to recruit 2,500. This is simply not enough and our growers are already struggling to recruit workers. 41% have seen fewer applications for seasonal picking work this year, and 61% believe 2019 will be even worse," added Capper.

The UK's last SAWS ended in 2013 following the admission of Bulgaria and Romania into the EU. It had seen British farms bring over more than 21,000 workers from the two countries, in addition to workers from elsewhere in the EU.