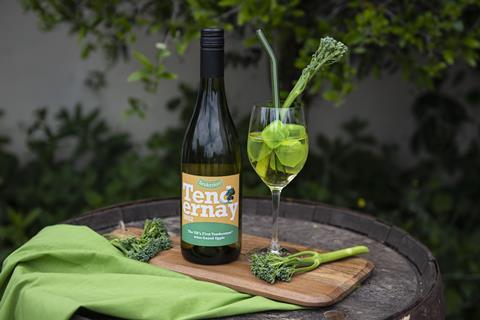 Tenderstem has launched a new wine infused with broccoli.
The wine is made from chardonnay from Lyme Bay Winery and infused with Tenderstem broccoli stalks, and will be available for free for those looking to "wine and dine their tastebuds".
The limited-edition drink, dubbed Tendernay, will be available on the Tenderstem website from 18 June for free before being rolled out in retailers this summer.
The launch on the website has been timed with English Wine Week to target new consumers, which the brand is confident it will attract due to record-hitting Tenderstem sales and the growth of English wine.
"Tenderstem broccoli is a British suppertime favourite, and we continue to pride ourselves on its nutty, succulent flavour," said David Samuels, Tenderstem spokesman. "So, what better way to use its iconic notes and flavours and launch our very own Tenderstem tipple? With the iconic English Wine Week coming up, it felt like the right time to celebrate the nation's trendiest vegetable, alongside wines created from our very own soil."
As part of the launch, the Tenderstem brand is promoting the pairing of the wine with various broccoli dishes to create the "perfect balance".