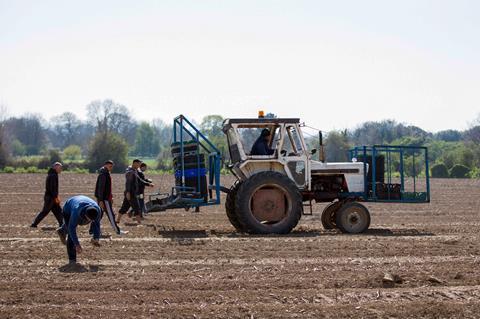 The UK faces fruit & veg shortages and price hikes due to a lack of clarity on post-Brexit trading and labour provision, industry bodies have warned.
The government's proposed plans for future trading with the EU would "damage" the UK fresh produce industry, said Fresh Produce Consortium CEO Nigel Jenney.
"We are not confident government departments will adopt the most effective solutions to support the UK fresh produce industry," Jenney said. Despite intense lobbying by the FPC, the government had not yet provided "essential information which was missing from the Border Operating Model and the Northern Ireland Protocol", he claimed.
Importers needed to know now which products were deemed to be 'controlled' or 'high risk' and therefore needed pre-notification and checks, he added, in addition to more detail on where consignments would be cleared and whether facilities would be resourced properly "to avoid delays and increased costs".
"Businesses which have only ever traded with the EU will be coming new to many requirements and will need government support. Not all may use an intermediary to do their customs declarations."
Jenney also added his voice to mounting concerns over a projected labour shortfall for the 2021 growing season in the UK, with time now running out to recruit sufficient numbers. A lack of progress on both labour and trade would ultimately have the potential to "create shortages and increase prices for consumers", he warned.
SAWS uncertainty
A decision about extending the Seasonal Agricultural Workers Scheme would be needed in a matter of weeks as growers began planning for next season's labour from the autumn, agreed British Summer Fruits chairman Nick Marston.
"The pilot scheme was expanded this year, but a substantial further expansion will be absolutely crucial for 2021, given people coming from the EEA will need to have visas, unless they have pre-settled or settled status," he said.
"If we don't see 70,000 seasonal permits for horticulture announced this autumn, we'll have an issue. I think it's unlikely that nothing will be done and I sincerely hope government is listening and planning to make sure horticulture has enough labour, but time is ticking."
Marston added the government would also need to extend the deadline for pre-settled and settled status applications to the end of next year due to a "great reluctance" to apply for it among seasonal staff.
"If I was a non-UK national, I'd be very nervous about not having a passport as you don't know when you'll need to go home. Likewise, the passport office is operating with a massive backlog because of Covid-19," he explained.
And despite the success of the government's Pick for Britain recruitment scheme, depending on UK pickers alone would not adequately address the issues faced by the sector, said NFU horticulture board chair, Ali Capper.
Anecdotal evidence from two farms Capper had spoken to showed the productivity of UK workers was almost half that of experienced migrant workers, she said, with Brits picking an average of 15.6kg of produce per hour, while migrant labourers picked on average 27.1kg per hour.
A Defra spokeswoman said the government was "continually evaluating the Seasonal Workers Pilot and looking at how it could meet the needs of our farmers and growers".
Second wave
The news comes at a time of great uncertainty for the fresh produce sector, with growers fearing a second wave of coronavirus infections could disrupt the second half of the harvest season.
"There are a lot of ifs about the next couple of months," Capper added. "If what happened with Spain over the weekend happened with Poland, for example, or if Romania and Bulgaria's borders closed again, it would change things overnight.
"There's a feeling that we're in July so we're nearly there with the season. That's not correct. This sector goes full-pelt into October so we're still only halfway through and there's still a lot that could change."