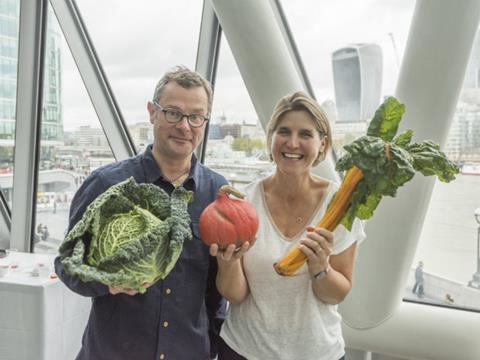 The Food Foundation's Veg Power crowdfunding campaign has ended, having exceeded its £100k target at the eleventh hour.

Run by the Food Foundation's Peas Please initiative, the 42-day Crowdfunder campaign drew national attention, with celebrity chefs Hugh Fearnley-Whittingstall and Jamie Oliver championing the cause.

It sought to raise funds for a generic vegetable advertising campaign, aiming to propel veg to the forefront of consumers' minds and increase consumption amid what the Food Foundation has dubbed 'the nation's diet crisis'.

The crowdfund was just shy of its target at 5pm last night, hovering around the £96k mark, but received a boost in the evening. The campaign ultimately raised £102,215, having implemented a stretch target of 150k.

The Food Foundation asked brands, retailers and suppliers to invest, in the expectation that they would reap the rewards of a marketing push.

Fmcg giants including Tesco, Sainsbury's and Bakkavor backed the campaign, which also counted support from the NFU, AHDB and British Growers Association among its 274 donations. Brands Birds Eye and Ella's Kitchen contributed to the fund in support of its ambition to increase veg consumption in children.

The fund's first ad is now tentatively scheduled for autumn, with a focus on crearing "exciting digital content to inspire kids to eat more vegetables", said the Food Foundation.
It is set to draw inspiration from the work of British Summer Fruits which saw berry sales more than triple from £370m per year in 2002-03 to £1.26bn in 2016-17 on an advertising budget of £375,000.
"What is great is that we have seen so many different brands and companies from across the food system all coming together to help us use advertising for the great cause of veg," added Food Foundation executive director Anna Taylor.

"The Veg Power Fund is a fantastic opportunity to really show how positive marketing can change people's perception of vegetables and inspire our children to eat more of them. Eating more veg will have a huge impact on their long-term health and significantly reduce the risk of them developing diet-related diseases as they grow up."

The Food Foundation estimated about 80% of children and adults did not eat enough veg, with the number rising to 95.5% of teens. It suggested the situation was exacerbated by just 5% of the £296.6m spent pushing fruit, veg, confectionery, snacks and soft drinks being used to promote vegetables in 2015 [Nielsen AdDynamix].