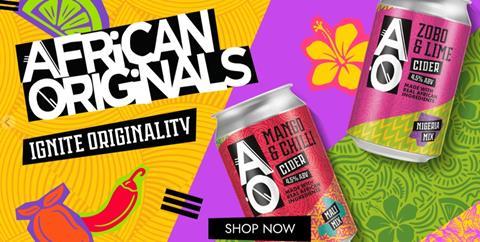 Drinks start-up African Originals, which launched in the UK this month, has beaten a £600k crowdfunding target to back the next stage of growth at the craft producer.
The business uses African ingredients and surplus fruit sourced from small farmers to make a range of craft ciders.
It is the sister brand of Kenyan Originals, founded by Alex Chappatte in Nairobi in 2019.
African Originals is currently overfunding in its crowdfunding campaign, with more than £722k invested by almost 200 backers on the Crowdcube platform.
The brand launched in the UK on 18 June, selling canned and bottled ciders on its direct-to-consumer website, with listings set to go live with Amazon.
Chappatte, a former head of marketing for Pernod Ricard, said: "Our vision is to be Africa's leading craft beverage company.
"Consumers are increasingly looking for more transparency in sourcing from their craft products. We want to hero the supplier behind the product, just like we have done with Kenyan Originals."
The business is backed by a handful of African investment firms, as well as drinks industry veterans such as Fever-Tree co-founder Charles Rolls and Philip Redman, former head of East Africa at AB InBev.
Kenyan Originals doubled in size in 2021 thanks to a growing distribution network of more than 1,800 outlets in Kenya, including with the top-five retailers in the country: Carrefour, Shoprite, Naivas, Quickmart and Chandarana.
The group will use funds raised in the crowdfunding campaign to drive brand awareness.