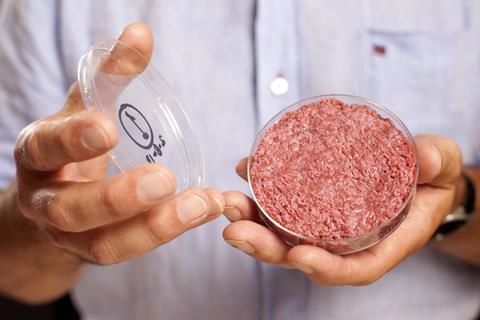 Lab-grown meat investor Agronomics has raised £10m from a share placing to continue to fund companies in the alternative protein market.
The Isle of Man-headquartered company has established a portfolio of 14 companies – including Livekindly, Mosa Meat, Meatable and VitroLabs – at various stages of growth in the rapidly advancing sector.
The oversubscribed funding round will provide additional capital for Agronomics to make additional investments following previous raises of £5.5m in January and £7.7m in December 2019.
Investment in the cultivated meat market is growing rapidly, with $150m invested globally between 2016 and 2019. More than $250m has already been raised in 2020, including a $135m raise at plant-based brand collective The Livekindly Co earlier this month.
Consultancy firm AT Kearney predicted cultivated meat's market share of meat consumption will be 35% by 2040.
Agronomics chairman Richard Reed said: "With these funds, we will be able to continue to support some of the most exciting companies in sector that are already in our portfolio, as well as look to invest in new opportunities."
Listed on London Stock Exchange's junior Aim market, Agronomics seeks to secure a 5-10% initial ownership in technologies offering new ways of producing food and materials, with a focus on products historically derived from animals.
Jim Mellon, non-executive director of Agronomics, and the largest investor in the latest funding round, added: "Agronomics is at the forefront of a rapidly developing field that will reshape traditional agricultural production by offering more sustainable methods for producing meat and other animal or environmentally intensive products.
"The impact that these companies could have on a global stage is enormous."
Cultivated meat, which is produced from cultures of animal cells and grown in a lab, has yet to be brought to market or received approval from any country.