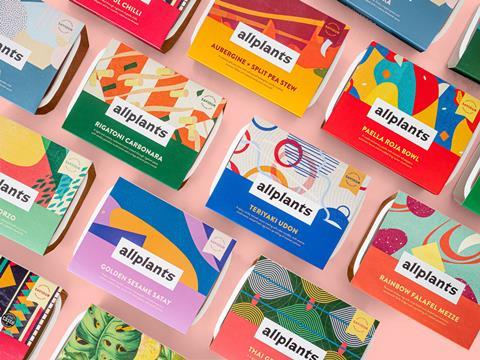 Frozen vegan meals brand Allplants has announced plans to scale up further after securing a third record-breaking funding round.
The London-based meals delivery brand – launched by Jonathan Petrides and his brother Alex in 2016 – raised £38m from VC firm Draper Esprit, alongside a host of other investor partners, in the largest-ever Series B round for a European plant-based food business. It follows earlier record-breaking rounds by the company, including £3.4m secured on Seedrs in 2020.
CEO Jonathan Petrides said the priority was to grow its 170-strong employee base, recruiting across operations, innovation, marketing and tech, while also hiring development chefs.
The business has broadened its range as demand for in-home meals exploded during the pandemic, with healthy breakfast bowls and smoothies, as well as lunches and desserts
Petrides plans to use the new investment to ramp up this innovation, exploring options to launch in new categories and partner with retailers.
"We're very excited about the opportunity to make the brand come to life in new channels and internationally," he said. "Although, we're not racing after it in the near term, we have had lots of offers from various retailers keen to list us for past three or four years, but we wanted to focus on DTC."
Allplants has already tested installing branded freezers in workplaces, gyms and yoga studios, with plans to roll this out wider.
"There are opportunities to install thousands of these freezers just in London, let alone the rest of the UK. It is a really great way to introduce people to the brand," Petrides added.
The latest fundraising follows earlier record-breaking rounds by the company, including £3.4m secured on crowdfunding platform Seeders in 2020 – the UK's biggest vegan crowd campaign at the time.
"Plant-based is still such a nascent space in the early days of transforming our global food and agriculture supply chains," Petrides said.
"There is enormous growth to come in the next couple of decades and brands like Allplants have an opportunity to lead and define whole new categories."
Draper Esprit partner Nicola McClafferty added: "Allplants has real potential to scale its direct-to-consumer business while expanding into new channels both in the UK and beyond. We believe it can be a global brand, bringing nutrition, taste and convenience to the plant-curious consumer and we are delighted to be supporting the team as they grow and thrive."
Allplants also plans to expand the size of its manufacturing site in north London to boost capacity six-fold, helping it get more meals on consumers' plates as demand for its products rockets
Petrides said the company was "busting at the seams", producing more than 60,000 meals a week for its 100,000 UK customers. The new site will be capable of making in excess of 300,000 meals a week.
The focus over the next three years would continue to be on the DTC channel in the UK, he added, with global aspirations to follow.
"The opportunity in the UK is vast and it is all about plant-curious people," Petrides said.
"Around 65%-70% of our customers are not vegans or veggies. They are people who want delicious, healthy food and they can't always be bothered to cook from scratch. It's all about convenience and ease.
"Over half of Europeans are already plant-curious, and trends suggest this will hit 100% by 2040. I'm firm in the belief that we will accelerate this transition."
"By making plant-based food delicious, exciting and outrageously convenient we'll continue to grow Allplants into the iconic global brand it is – creating a new plant-curious lifestyle category across Europe and beyond. If you look how far we've come, in the short space of time we've taken to get here, the sky really is the limit.
Revenues at Allplants have more than doubled every year since the brand launched, with annualised sales on track to hit £20m this year and set to continue to double in 2022 and 2023.