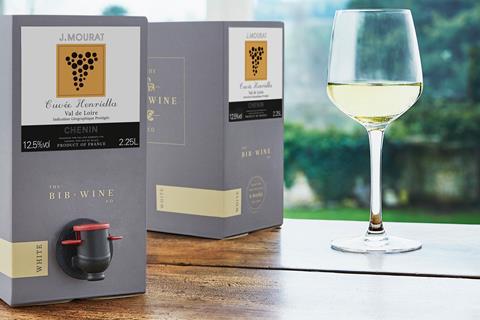 BIB Wine, a startup selling premium wines in a box, is about to launch a crowdfunding campaign looking to raise £467k to open its first Bag-in-Box bar and shop.
The company will take to crowdfunding platform Seedrs this week, offering a 22% stake in the business.
It will use the cash raised to open a BIB wine bar and shop in Central London, with the final location yet to be decided.
BIB is aiming for the opening to happen by the end of the second quarter of 2020.
"We are really excited about opening a physical site, it has always been our aim," said co-founder and MD Oliver Lea.
"We have been out and about with our wine at every opportunity since we have launched and the thing that gives us the most pleasure is being able to see people's reactions when we give them a taste of our wine."
The bar and shop will allow customers to try the wines before buying them, as well as refill their bottles from a BIB Wine filling station.
"We see the opening of the bar and shop as something that will really help us achieve our full potential, with the online sales to be buoyed by having a site," Lea added.
"What we really look to create is an omnichannel integrated approach whereby people can choose the way they interact with us, from popping into the shop for a glass of wine to buying online."
Further funding will go towards new innovation, range expansion and marketing to increase the brand's visibility.
BIB launched online last year selling quality wines in a box, a format that it claims "drastically reduces environmental impact, lowers prices and eliminates waste".
The bag-in-box packaging allows for the wines to last longer once opened, Lea explained, reducing waste and carbon footprint.
"The whole environmental picture was a huge guiding force behind us for turning this idea into a business plan," Lea added.
In a year's time, Lea plans for the startup to be on the lookout for a second and third site.
BIB Wine generated revenues of £89k in its first year of trading but has, since then, experienced 200% year-on-year growth.
"The growth is there, and we want to convert that by giving us a permanent home," Lea added.
"If we can grow a permanent site and foster loyalty there it will allow us to have a stronger basis for growth going forward."