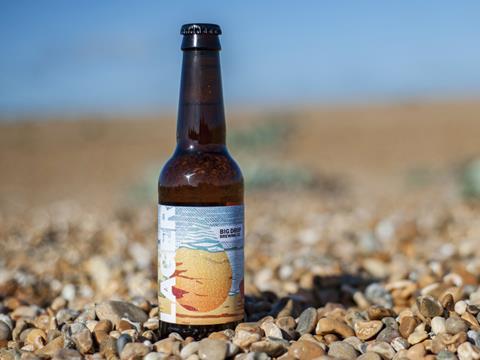 Low-alcohol brewer Big Drop has netted a £500k investment, and is outsourcing some of its production to Europe to help it meet growing demand.
The brewer, which made its national supermarket debut in Tesco this year after quadrupling its production capacity, secured the cash injection from private investors through seed funding.
The investment would "rapidly enable the next stage of the company's development" and would largely go towards boosting its marketing and production capacity, said the brand.
Among its investors is well-known business angel Nick Heath, who founded utility switching service Make It Cheaper.
Moving a percentage of its production to Europe, meanwhile, meant the brand could "meet the dual challenges of Brexit", it added, with Big Drop "also looking at brewing options in Canada to reduce its carbon footprint and to provide a gateway into North America".
Big Drop kicked off its investment drive earlier this year after scaling up its production from 10,000 to 40,000 litres ahead of its break into Tesco. Speaking to The Grocer at the time, founder Rob Fink said its top priority was to "go out there and create demand not just in the trade".
"Because if you are paying attention to the alcohol-free drinks sector in the trade, you would have heard of us. But now we need to drive customers to buy our beer from supermarket shelves."
Big Drop's beers - all of which are 0.5% abv - are brewed to strength rather than made with an alcohol extraction process.
The brand, founded in 2016, was "winning awards against full-strength beers", said Fink, which he said demonstrated "that we are meeting a genuine need and delighting even dedicated alcoholic beer lovers".
"There's a huge potential audience out there for us and we're only just beginning."
Its core brews include a stout, which won a silver award at the 2017 World Beer Awards, a pale ale, and a spiced ale. It has also created a range of limited-edition, small-batch brews such as a sour beer that hit specialist retailers in May.