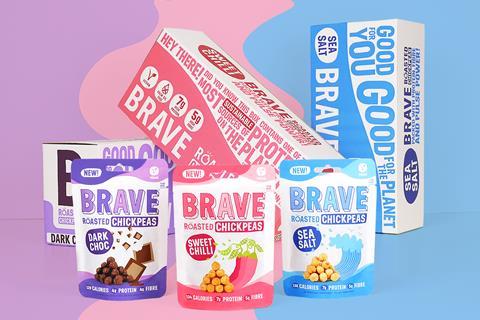 Pulse snacking brand Brave Foods has secured a "large six-figure" cash boost to accelerate growth as it seeks to take on the nut category.
The investment – of which no financial details were disclosed – was led by Döhler Ventures, the investment arm of German ingredients manufacturer Döhler.
Döhler had not been "too active on the UK scene" with only three investments so far, but had built a "broad portfolio of food & drink brands" across Europe, said Brave co-founder Amber Fraser-Sokol.
"They are going to bring huge value to us, not only from their industry experience and knowledge, but also their contacts within the wider European market," she added.
"European expansion is very much on the cards as a result of this investment."
Brave's existing angel investors, who in 2017 injected around £200k into the brand, also followed on in the latest round.
The startup, which makes roasted peas and chickpea snacks stocked by Sainsbury's, Boots and Holland & Barrett, will primarily use the funds to boost awareness of its brand, and of the pulses category in the UK, through extensive marketing.
"We really believe in pulse snacking," Fraser-Sokol added. "It ticks every single major trend.
"Together with our investors, we see huge long-term potential in growing the category out, almost to the point of rivalling the £500m nut category."
Product expansion, including NPD and the development of new pack formats, and new hires will also be targeted by the brand.
Internationally, Brave which already exports to 10 countries – including the Netherlands, France, Belgium, Japan and Kuwait – will look to expand into new markets, including the Nordics.