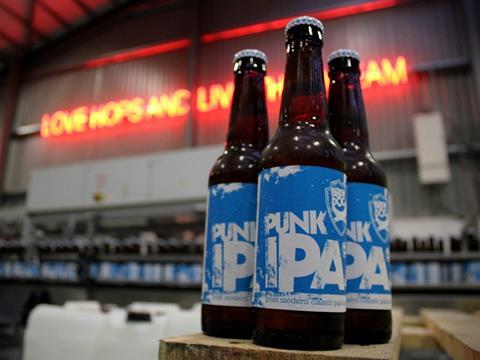 Booming investor demand for food and drink brands has fuelled a recordbreaking year on crowdfunding platform Crowdcube, with popular craft brewer BrewDog hitting its £10m target at the end of 2016.

Fundraising in the sector made up more than a quarter of the total £80m pledged on the site in 2016, with 36 food and drink startup, early and growth-stage businesses securing £22.8m.

BrewDog contributed £10m to the total via a bond issue, which is the largest-ever raise on a UK crowdfunding platform.

It was the third time in 2016 the platform broke fundraising records, with fintech startup goHenry bringing in £4m in April, later surpassed by Crowdcube's own £7.7m funding round.

The Punk IPA brewer launched its bond issue at the start of December to raise £10m from more than 2,700 investors in just three weeks for its continued global expansion. BrewDog has raised £26m from more than 50,000 crowdfunding investors since 2009.

Rival craft brewer Innis & Gunn smashed its £1m crowdfunding target in three days in November to raise £2.5m from 2,000 investors, valuing the business at £50m.

Other food and drink brands pitching for cash in 2016 on Crowdcube included biscuit company Biscuiteers, which raised close to £600k, and restaurant chain Yorkshire Meatball Company, which used £130k to launch retail products in Asda, Tesco and Morrisons.

The average funding round across the entire platform in 2016 was lifted to £642k, up from £550k in 2015.

Crowdcube co-founder Luke Lang said: "The finance raised on our platform for food and drink businesses points to no let-up in growth for innovative brands. Despite the economic uncertainty, we've continued our history of record breaking and finished the year with our best quarter yet."

Lang added investment across the Crowdcube site was up 20% in the six months post-Brexit, with food and drink raising £6m from 23 December 2015 to 23 June 2016 and £15.5m in the six months after the EU referendum. However, excluding the £10m BrewDog campaign, food and drink funding was down slightly.

Since Crowdcube launched in 2011, the platform has amassed a crowd of more than 300,000 members contributing £210m to companies, with £66m going to 132 food and drink pitches.

After BrewDog, the biggest campaign for the sector is the £3.3m raised by Mexican restaurant chain Chilango in 2015, followed by £2.9m brought in by Camden Town Brewery, which has since been acquired by AB InBev for more than £80m.

"Over the next 12 months we anticipate more businesses following in the footsteps of Camden Town Brewery by delivering investors a financial return," Lang said.

"We also predict an increase in businesses coming to Crowdcube for later-stage growth funding and funded companies going on to secure follow-on investment from venture capital and institutional investors."

Crowdfunding's popularity saw Tesco get in on the act in September 2016 with its own BackIt platform for small suppliers.