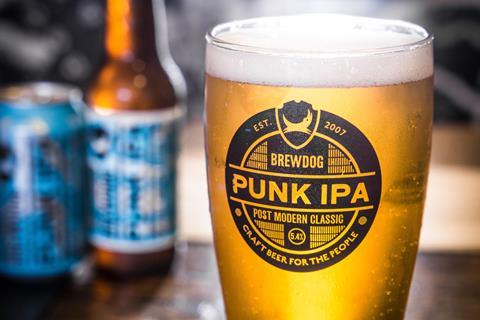 BrewDog has reopened its Equity for Punks crowdfunding scheme for the final time as it aims to raise £7.5m for sustainable initiatives.
All money raised through 'Equity for Punks: Tomorrow' will be committed to sustainability projects, including direct wind power, CO2 recovery, electric vehicle fleets and converting waste into energy.
The campaign has an initial target of £7.5m but will overfund up to £50m if there is demand.
The round will run for an initial 150 days, closing on 29 January 2021, with a minimum investment of two shares for £50.30.
BrewDog is aiming to reduce emissions from its brewing operations to zero in fewer than 24 months. Smaller-scale projects supporting this goal are already underway, through an initial investment from the business, including the BrewDog Forest, a 2,000-acre site in Scotland, funded by the craft brewer to remove carbon from the air, and the use of recycled materials across its packaging.
Equity for Punks: Tomorrow will look to accelerate the implementation of green infrastructure and technology across its global operations, with projects including direct wind power, CO2 recovery and electric vehicles.
Any funds raised above its target will support wider projects including a £10m investment into solar panels at its breweries across the globe, the building of a £12.5m brewery in France and a brewery in Asia to more efficiently service growth markets in China, Japan and India.
Co-founder James Watt said: "In 2009, we launched Equity for Punks, and pioneered a new kind of business model."Equity for Punks: Tomorrow is the next evolution of this, uniting investors across the globe to make a change today to ensure we have a planet to brew beer on tomorrow. We believe in action, not promises. Change is not happening fast enough, it's time to set a new standard for sustainability, and invest in a future we're proud of."
In August, BrewDog released its new sustainability report, in collaboration with writer and environmentalist professor Mike Berners-Lee. The report detailed the calculations underpinning BrewDog's understanding of its impact on the planet and outlined the key initiatives it will focus on to limit and counteract its emissions.
The report presented the detailed plans for the business' sustainability measures.
Since its initial launch in 2009, Equity for Punks has raised more than £75m from 148,000 investors to support global expansion, including opening 102 bars around the world, funding four breweries in Aberdeenshire, Ohio, Berlin and Brisbane and supporting exporting operations in 60 countries.
The brewer said Equity for Punks: Tomorrow signalled the final round in the crowdfunding programme.In 2017, BrewDog sold a 22% stake in the business to US private equity firm TSG Consumer Partners for £213m.