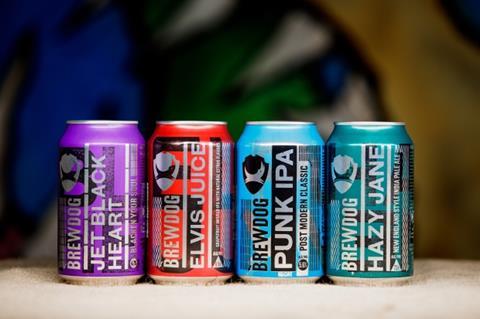 BrewDog has returned to the crowd, launching a third bond issue to raise up to £15m to fund its continued global expansion.
The craft brewer has raised £1.2m from 689 investors on Crowdcube in just over a week since opening its bond offer, with the largest investment currently standing at £45k.
The bond, which requires a minimum investment of £500, will generate a 6% annual interest to be split evenly between cash and "BrewBucks" to use online or at BrewDog's bars to purchase beer.
The investment is unsecured, meaning that shareholders will be exposed to losses if the company becomes insolvent.
The capital raised will go towards driving BrewDog's international expansion – which led to its first-ever loss last year – with focus on Germany, France, Spain, Italy and Australia, where it is currently building its fourth brewery.
Further cash will be used to deliver improvements to BrewDog's Aberdeenshire brewery, helping the brand keep up with increased demand from the UK and overseas.
BrewDog has become renowned for allowing its customers to own a portion of the company through its crowdfunding business model 'Equity for Punks', raising more than £74m from 125k investors since 2009.
Its latest round of equity fundraising, still ongoing through the company's website, is due to close in just over four months.
With its flagship brew, Punk IPA, now the number one craft beer and third bestselling ale in the UK, BrewDog's revenues rose 55% in 2018 to reach £171.6m.
However, significant levels of investment – including £44.6m spent to upgrade infrastructure – pushed the brand to a loss of £579k before tax, its first since launching in 2007.
The business owns four breweries and over 90 craft beer bars globally, with plans to launch city centre mini-hotels above its bars called 'BrewDog Kennels'.