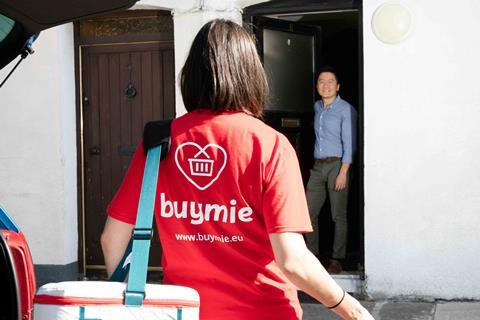 Same-day grocery delivery app Buymie is eyeing expansion into 15 cities after raising €5.8m in its latest funding round.
The raise was led by new investor, Wheatsheaf Group, the food and agriculture arm of the Grosvenor Estate, as well as several existing backers. Other investors include Keith Weed, former chief marketing and communications officer for Unilever, and Scott Weavers-Wright, former MD of Morrisons.com. Sure Valley Ventures, which put €300,000 into the company in April, ploughed in a further €620,000 in the latest round.
"This funding round will help Buymie achieve our goal of becoming the leading same-day grocery delivery provider across the UK and Ireland," said Buymie CEO Devan Hughes.
"More and more customers are frustrated by the long waiting times offered by conventional grocery delivery services and delighted with our solution that can deliver groceries in as little as one hour," he added.
Sure Valley backer Pires Investments said the funding valued Buymie – which delivers for Lidl and Tesco in Ireland - at more than 200% its valuation two months ago. The latest funding round takes Buymie's total capital raised this year to over €8m.
The new funds will also be put towards the company's mission to "reduce the environmental impact of grocery shopping".
Buymie arrived in the UK in May this year, in partnership with Co-op. More than 200,000 households across Bristol can now use Buymie's app to order from about 4,000 Co-op products. This month Buymie started listing Asda products on its app, but without the supermarket's backing.
Buymie's arrival comes at a time of heightened demand for rapidly delivered groceries. Deliveroo has struck delivery partnerships with Aldi, Morrisons and M&S in recent months as it seeks to pivot to grocery following widespread restaurant closures. Sainsbury's expanded its on-demand 'Chop Chop' delivery service beyond London for the first time in May, to 50 stores in 20 cities. Ocado's Zoom service hit "planned end game capacity, a year ahead of plan" last month.
Amazon is pushing ahead with plans to launch an 'Ultra Fast Fresh' service in the UK, which suppliers have been told will provide customers "with a one to two-hour delivery across nine cities in the UK".
"Consumers in the UK and Ireland want same-day delivery, great value and sustainability," said Weed. "Buymie is unique in offering all three, which makes it a very compelling consumer proposition, and a great partner for retailers looking to take advantage of the rapidly growing online shopping opportunity and also defend themselves against the advancing competitive threat of a certain e-commerce juggernaut."
Weavers-Wright added that consumers were clamouring for same-day delivery.
"Traditional chilled van-based grocery e-commerce solutions aren't able to do same-day; that is why I backed Buymie, which has unique capabilities," he said.