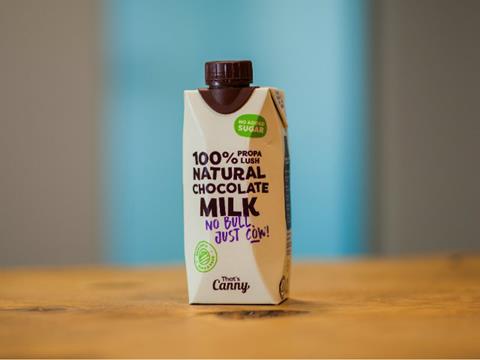 Geordie milkshake start-up Canny has hit its £100,000 crowdfunding target within a week of launching its campaign.
It plans to use the cash to launch a reformulated version of its chocolate milkshake sweetened with agave and to target supermarket listings.
Founded in 2015, Canny is available in 200 independent stores across the UK and as part of a meal deal offer on Virgin trains.
The business has scaled back from four flavours just one to concentrate on its chocolate variant, which made up about 70% of sales.
It is also relaunching the naturally flavoured drink after deciding to go refined sugar-free, with the new product sweetened using the agave plant.
Canny, which is Geordie dialect for genuine or good, is overfunding after hitting its £100,000 target on Crowdcube seven days after launching the campaign. The business has raised – at the time of writing (5 July 2017) – £116,000 from 167 investors, in return for a 16% stake, valuing the start-up at more than £600,000.
"We are reformulating to be sugar free and the crowd cash will allow us to bring out the new drink, with new packaging, while allow us to target supermarket listings and increasing marketing spend," co-founder Liam Watson said.
Canny, which secured concept funding from venture capital firm Northstar Ventures, generated revenues of £40,000 in the year to March, with an EBITDA loss of £60,000. The business forecast sales would grow to more than £250,000 in 2017.
Watson started the business with Simon Bishop, who has more than a decade of experience in the food and drink industry, spending time at Northern Foods, Faccenda and Hazelwood Foods.