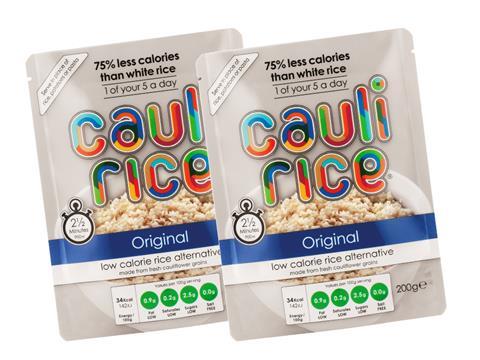 Cauli Rice has raised £1.4m from a massively oversubscribed crowdfunding campaign - more than £1m higher than its initial target.

Another 1,000 investors rushed to grab a share of Cauli Rice in its fourth crowdfunding round on Crowdcube, taking the total secured since September 2014 to over £3m. The company gave away an equity stake of more than 14% in the latest round, valuing it at £10m, or seven times 2016 revenues.

It will use the money to push on with its growth plans, including expanding exports and introducing new variants, microwavable rice pot ready meals and other veggie rice pouches, leading with sweet potato rice.

"We're really excited about the amount of support we've received from investors in our latest funding round," co-founder Gem Misa said. "The additional funds raised will be used for the further expansion of the business. But this is more than just funding for us - we are so happy to be welcoming 1,038 new UK investors to the Cauli Rice family."

The new round takes the number of investors in the business to more than 2,500 over the four rounds of funding.

It has used proceeds in the past to help secure a global patent for its technology, build a production line and launch into UK supermarkets.

Cauli Rice sold more than 1.2 million pouches in its first full year of trading after winning 2,800 supermarket listings across the big four and Waitrose.

The business generated revenues of £1.5m in 2016, missing projections of £2.9m made in October 2015 during its previous crowdfunding campaign. It said in the latest pitch that this was down to timings of a major listing, with 1,500 of the 2,800 stores going live in the last three months of the year.

It also made a pre-tax loss of more than £900k last year as it invested heavily in getting the product to launch stage and into stores. Cauli Rice expects to be profitable this year, with sales forecasted to grow 47% to £2.2m.