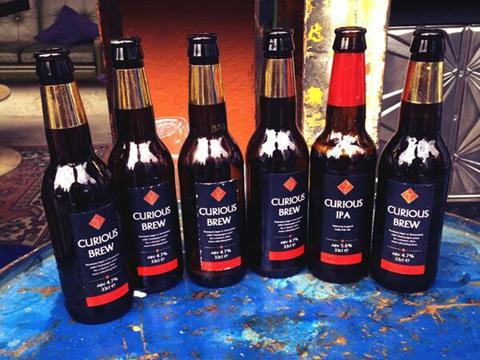 English winemaker Chapel Down has launched a crowdfunding campaign and share placing to raise at least £1m via the Seedrs platform to grow Curious Drinks beer and cider business.
Chapel Down will use the funds to build a state-of-the-art new brewery and visitor attraction in Ashford, Kent, expected to be fully operational by December next year.
Chapel Down said the facility, for which it is final negotiations to acquire a 1.7-acre site, would enable Curious Drinks to consolidate its brewing and bottling operations into a single location, bringing significant cost savings and enhancing margins.
Proceeds from the crowdfunding, which will be open until the end of next February, would also be used to further strengthen the Curious Drinks team, enhance its domestic and international routes to market and further develop the brand.
Booker chairman Stewart Gilliand, who is also a non-executive director of Mitchells & Butlers, has been appointed non-executive chairman of Curious Drinks, to take effect from 1 March.
Rachel Montague-Ebbs, supply chain director at CPM Retail, will join as non-executive director from the same date.
The fundraising comes on the heels of a "record-breaking" £3.95m crowdfunding from 1,400 investors in what was the highest amount ever raised using the crowd in 2014.
Chapel Down said the latest campaign was an opportunity to invest in a profitable English beer and cider maker with strong growth prospects.
Crowdfunding investors will receive free brewery tours and 25% discounts on beer and cider. Their names will be etched on brewery fermentation tanks and exclusive limited edition beers.
Frazer Thompson, chief executive of Chapel Down and Curious Drinks, said demand for the company's beers and cider has increased significantly since it first started making them four years ago.
"We were humbled by the overwhelming response to last year's record-breaking Chapel Down crowdfund and hope to build an equally impassioned army of shareholders for Curious Drinks through this latest campaign."
Chapel Down Group recently reported that total sales were up 33% to £3.25m for the six months to 30 June, while gross profits rose 31% to £1.17m. Beer sales were 33% to £974k during the first half.