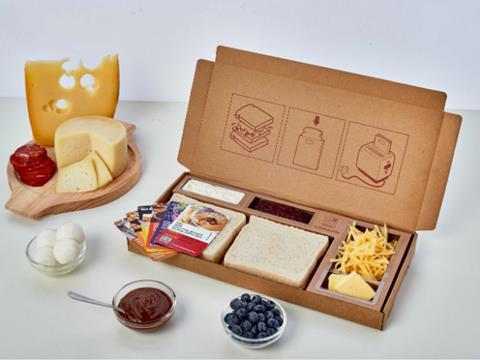 Cheese toastie subscription box service Cheese Posties is seeking £80,000 in a crowdfunding campaign that values the start-up at more than £1.5m.
The business was launched in mid-2015 by Dave Rotheroe to capitalise on the rapidly growing recipe kit market, with the aim of filling the gap between meal kit subscription boxes such as Hello Fresh or Gousta and snack subscription business Graze
Cheese Posties offers subscribers a selection of 30 different cheese toasties, including usual combinations such as banoffee pie, pepperoni pizza, bloody Mary, chocolate cheese cake and Jaffa Cake.
Customers are sent all the ingredients to make one of the 'gourmet' cheese toasties in a letterbox-sized package via Royal Mail 1st Class post for £4.65 a week.
Revenues of £50,000 were generated during the initial 12-month testing period, despite no investment and no marketing spend as press coverage and social media introduced more than 1,000 customers to the business.
Cheese Posties relaunched in November 2016 with a new premium product and packaging, doubling monthly revenues for three consecutive months as a result and is now acquiring between 20 and 40 new subscribers a day. The business expects 2017 turnover to exceed £430,000, with forecasts of £1.7m in 2018 and £7m in 2019.
It needs cash to help handle the rapid growth, with the money from the crowd to be used to improve the website and boost packaging speed and capacity and increase storage space. The business also plans to use the money to break into the next-day personalised gifting market.
"With a focus on a fun, delicious and collectable product Cheese Posties appeals to the appetite of cash rich, time poor millennials who value quality and exciting experiences," Rotheroe said.
"While our focus is on being fun and quirky we also use the very best ingredients, partnering with small batch producers and local suppliers to create a product which simply can't be replicated using shop bought ingredients."
He added: "We have proven that we have a product people love and put together a plan to scale it to something more than just another subscription box service."
Cheese Posties has so far attracted 128 investors to its Seedrs campaign, who have pledged just more than £19,000 towards its £80,000 target. The business is giving away just 5% equity, valuing the business at more than £1.5m.
It is the second time the business has turned to the crowd, following £7,000 raised, on a £2,000 target, on rewards-based crowdfunding platform Kickstarter in 2015.