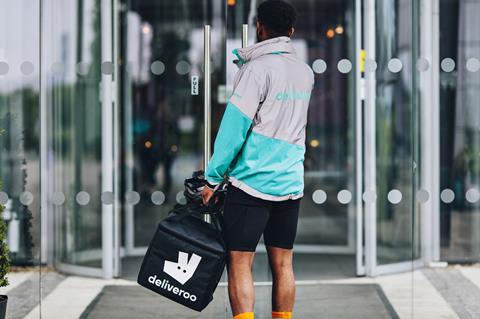 Deliveroo may have been London's largest IPO in almost a decade and been given a glowing endorsement by the Chancellor, but the float of the meal delivery tech giant also proved to be one of the market's least well received.
After a troubled book-building process, beset by questions over its profitability outlook and treatment of its workers, Deliveroo finally arrived on the stock market on Thursday at the bottom end of its previously flagged range. Having targeted a valuation of as much as £8.8bn, after a bumpy ride with investors and the media it scaled back expectations to float at £7.6bn, or 390p a share, down from its initial 460p target.
However, the shares immediately crashed by more than 30% as it made its long-awaited debut on Wednesday morning, tumbling as low as 271p and settling at around 290p by early afternoon – a drop of 26% from its float price, making it one of the poorest received major floats in decades.
The shares fell another 1.9% on Thursday to 282p.
The process has been plagued by questions over continuing losses even as the takeaway market boomed throughout lockdown, as well as concerns raised from the City's biggest fund managers, including Legal & General and Aviva, which publicly said they would not be investing in the much-anticipated IPO over worries about employment practices.
Additionally, a dual-class share structure, giving founder Will Shu more voting rights in the floated company compared with normal shareholders, also attracted scrutiny as UK authorities mull changing listing rules to allow such structures in the FTSE 100.Despite grumbles about the level of control Shu will maintain, analysts suggested the threat to Deliveroo's business model – heightened by a Supreme Court ruling against Uber this month – was the main driver of the frosty reception.
"The flexible employee model of Deliveroo's riders is a huge pillar of the group's plans for success," said Hargreaves Lansdown equity analyst Sophie Lund-Yates. "If forced to offer more traditional employee benefits, like company pension contributions, Deliveroo's already thin margins would struggle to climb, and the road to profitability would look very tough indeed."
AJ Bell investment director Russ Mould said the negative press around working practices had "spooked" those who applied for shares in the offer "meaning they are racing to dump them".
"Fast growth jam tomorrow shares are no longer in fashion as investors now prefer lowly-valued stocks that offer jam today. That meant Deliveroo was already fighting a headwind as soon as it hit the stock market."
However, he suggested this may not necessarily point to a lack of City faith in its business model, commenting: "One must question if the knee-jerk reaction we saw at the market open is simply a short-term issue and if investors who like the long-term growth opportunity will flock to buy stock at the even cheaper price… Bulls will say the pandemic has made online food ordering part of everyday life and this trend will remain intact once life returns to normal."
Only investors who were allocated shares in the institutional offer were able to deal in the shares on launch, with the company set to go on the open market on 7 April.
Deliveroo raised £1.5bn from the sale of almost 385 million shares, with £1bn earmarked for new growth opportunities and the remainder providing a payday for founder Will Shu and other existing shareholders.