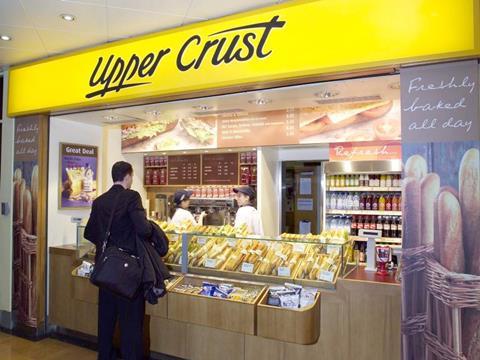 Upper Crust owner SSP Group already tapped investors for an extra £216m cash in March to mitigate the damage coronavirus has wrought. This week it pleaded with shareholders to reinvest the dividend payment it was obligated to pay.

Announcing its first-half results this week, the travel food-to-go specialist swung to an interim loss for the six months to 31 March as the pandemic "heavily impacted" trading.

SSP saw like-for-like revenues fall 8.4% to £1.2m. It also suffered a pre-tax loss of £34.3m, compared with profits of £54.2m the year before. Trading was hit by the early coronavirus outbreak in Asia and its subsequent spread resulted in trading "deteriorating rapidly" across the group.

In March it raised £216m through a share placing to bolster its balance sheet amid the global slump in air and rail passenger numbers.

However, it had to return to shareholders cap in hand this week. They had already approved a £26.8m full-year dividend in February that the company is now loathe to pay out due to the slump in trading. After failing to agree to cancel or further defer the dividend, it offered investors the chance to reinvest the sum in new shares. In the end, it managed to raise £11m - under half the maximum sum it was seeking - at 315.2p a share.

AJ Bell investment director Russ Mould said the offer "feels like an act of financial gymnastics", adding: "For all its talk of emerging a fitter, stronger business at the end of the crisis, at present sales are running 95% lower year on year so it is all about survival for the time being."
However, broker Shore Capital said: "The group had been seeing strong revenue growth, driven by continued momentum in net new contracts, until Covid struck mid February… As, and when, the travel industry picks up we would expect SSP to recover accordingly."

SSP Group shares rose 3.2% to 315.2p on Wednesday, but remain down by more than 50% so far this year.

Meanwhile, international coffee player JDE Peet's managed to shrug off the chaotic market to pull off a rare IPO - Europe's largest for two years.

The Kenco, Douwe Egberts and Peet's Coffee owner raised €2.25bn to value it at €16.8bn when it listed last Friday, pricing its shares at €31.50.
Peet's is majority controlled by German consumer giant JAB Holdings, which has been steadily building a global coffee empire over recent years alongside its other consumer investments.
The well-received IPO - completed in just 72 hours due to demand - was ­trading at €36.90 by Thursday this week.