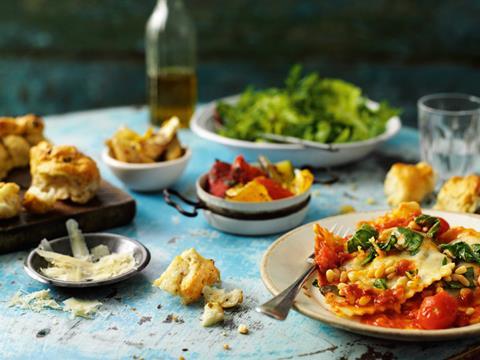 Top story
The UK's biggest ready meals supplier Bakkavor has announced its intention to raise £100m by floating a portion of its shares on the London Stock Exchange.
Bakkavor has issued its intention to float on the main market of the London Stock Exchange, with the float expected to take place in early November.
Bakkavor intends to apply for its Shares to be admitted to listing on the premium listing segment of the Official List and admitted to trading on the main market of the London Stock Exchange. It is expected that Admission will take place in early November 2017 and that, following Admission, the Company will be eligible for inclusion in the FTSE UK indices.
The offer will comprise the issue of new shares to raise gross proceeds of approximately £100m and the sale of part of the Shares held by Baupost (41% shareholder) and the founders, Agust and Lydur Gudmundsson (59.0% shareholders).
The company intends to float at least 25% of the issued share capital, with the founding brothers and Baupost remaining significant shareholders in the group.
Bakkavor said the float "will enable the group to further invest in the business, reduce its current leverage, and provide a partial realisation of the investment in the group by the selling shareholders".
In conjunction with the intention to float, the company has also announced that prior to admission, Simon Burke, currently an independent non-executive director, will be appointed as chairman. The current chairman, Lydur Gudmundsson, will remain on the board as a non-executive director.
The Company also announces the further strengthening of the board with the appointment of Sue Clark as a non-executive director, effective prior to admission. Clark was formerly MD of SABMiller in Europe and is currently a non-executive director on the boards of Akzo Nobel and Britvic.
Agust Gudmundsson, CEO of Bakkavor, commented: "We are delighted to be listing Bakkavor at a very exciting time for the group. Our passion for making the best tasting fresh prepared food, underpinned by our expertise and our focus on innovation, has made us the clear leader in an attractive and fast-growing market.
"We have long-established relationships with the UK's leading food retailers and our quality products are core in their efforts to gain greater exposure in the exciting fresh convenience sector. We have a long track record of delivering sustainable growth in both revenue and profits and there is considerable momentum right across the Group. Our experienced management team has the ability and ambition to ensure we can further strengthen our position in the UK while accelerating our international growth ambitions.
"This IPO will enable us to continue to invest to ensure we create value for all investors and stakeholders, and bring more great tasting food to our customers. I am hugely proud of what has been achieved to date at Bakkavor and look forward to leading the business through the years to come."
Simon Burke, Chairman-elect of Bakkavor, said: "Over the past 30 years Bakkavor has grown to become the clear leader in the UK market for fresh prepared foods and a vital partner for retailers and food service companies. Through that time the business has retained its entrepreneurial edge, while putting in place a hugely experienced management team with strength in depth across manufacturing, supply chain and innovation.
"I have been impressed by the significant growth that Bakkavor has delivered as a private company. Now, with solid foundations in place for the next stage of the Company's development, Bakkavor is excellently positioned to continue to build on its success and capitalise on the growth opportunities ahead."
Morning update
UK retail sales rose 1.9% in September as food sales increased driven by rising prices, according to the latest BRC–KPMG Retail Sales Monitor.
Overall UK retail sales were up by 1.9% on a like-for-like basis from September 2016, when sales were up 0.4% on the proceeding year.
Total sales were up 2.3% in the month, on top of growth of 1.3% in September 2016.
The 2.3% total rise is above both the three-month rolling average of 2.1% growth and the 12-month average of 1.7%.
Over the three months to September, food sales were up 2.5% on a like-for-like basis and 3.5% on a total basis – comfortably above the 12-month total average growth of 2.9%.
However, in-store sales of non-food items declined by 1.5% on a three-month total basis in the month and fell by 2% on a like-for-like basis.
Overall three-month non-food sales were up 0.5% on a like-for-like basis and 0.9% on a total basis as online sales of non-food products grew by 10.7% during the month.
BRC chief executive Helen Dickinson commented: "September saw a second consecutive month of relatively good sales growth which should indicate welcome news for retailers and the economy alike. Looking beneath the surface though, we see that much of this growth is being driven by price increases filtering through, particularly in food and clothing, which were the highest performing product categories for the month.
"Retailers have worked hard to keep a lid on price rises following the depreciation of the pound, but with a potent mix of more expensive imports and increasing business costs from various government policies, something had to give at some point.
"September's overall growth may increase the likelihood of an uplift in interest rates in November. So with stronger headwinds brewing, its vital government keep a tight lid on those costs under its control, which impact on retailers, the cost of doing business and ultimately consumers."
IGD chief executive Joanne Denney-Finch added: "September was a consistently strong month for food and grocery sales with little variation from week to week. This extends the good run from spring into autumn, albeit driven more by rising prices than volumes.
"After several months of inflation, a growing number of people are taking more time to hunt down value. Just under half (46%) of shoppers now say they usually look for the cheapest products, even if it takes more time, versus 40% in March."
Elsewhere, Whitbread (WTB) has announced this morning that Costa Coffee has acquired 49% of its South China Joint Venture from its JV partner, Yueda, for RMB310m (£35m).
It said the acquisition provides full ownership in this "important growth market" and is "in line with Whitbread's strategy to focus on key international opportunities".
Costa currently owns 51% of the joint venture which operates 252 stores in the south of China, including 93 stores in Shanghai.
Alison Brittain, CEO of Whitbread commented: "One of our three key strategic priorities is to focus on our strengths to grow internationally and today's announcement marks a significant and exciting step in our ambitious growth plans for China. We have enjoyed an excellent partnership with Yueda over the past ten years together beginning to build the Costa brand in this key market.
"The coffee shop market in China is highly attractive, with a compelling opportunity for Costa to grow its presence over the longer term. This acquisition gives us full strategic and funding flexibility to unlock Costa's potential in China, providing a strong platform to facilitate future growth, enhance the customer experience and make Costa the coffee shop of choice in this fast-growing market.
Brewer and pub operator Marston's (MARS) has updated the market on its full-year trading for the period ending 30 September 2017.
It said it made further progress in implementing our strategy, achieving growth in revenue and earnings led by the performance of wet-led pubs and brewing.
In its 'destination and premium' pub division like-for-like sales were 0.9% above last year as the more subdued summer trading and relatively stronger performance of wet sales compared to food sales was consistent with the market.
For taverns, like-for-like sales were 1.6% above last year as these wet-led community pubs continue to benefit from greater consumer interest in local beers and craft drinks. In leased, like-for-like profits are estimated to be up 1% compared to last year.
Its brewing division has had a "transformational year" including the acquisition of the Charles Wells Brewing and beer business in June, and growth in distribution. It said the integration of CWBB is on track, and performance is in line with our expectations. Own-brewed volumes increased 6%.
Marston's said sales and profits for the year are ahead of last year, and it is targeting further growth in 2018. It has also identified cost savings of approximately £5m per annum including the recently announced reorganisation of the pub operational structure.
CEO Ralph Findlay commented: "Our priority is to focus on quality, service and standards. We are well placed to continue to implement our growth strategy through investment in higher quality pubs and bars and through our unrivalled beer brand range supported by high customer service standards."
On the markets this morning, the FTSE 100 is back up 0.2% to 7,521.8pts.
Marston's has jumped 4.8% to 109.1p on this morning's news, while Whitbread is up 0.6% to 3,873p.
Other risers include Greene King (GNK), up 3.3% to 537p, Premier Foods (PFD), up 2.6% to 40p, Britvic (BVIC), up 1.5% to 772.3p and Nichols (NICL), up 1.3% to 1,788.1p.
Early fallers include Applegreen (APGN), down 1.4% to 530p, Total Produce (TOT), down 0.6% to 206.7p and Ocado (OCDO), down 0.6% to 292p.
Yesterday in the City
The FTSE 100 started the week slipped 0.2% to 7,507.9pts, though the index remains close to achieving an all-time high of above 7,600pts.
UK supermarkets had a tough start to the week, with Booker Group (BOK) falling 1.6% ahead of its half year results on Thursday and amid competition concerns around its £3.7bn takeover by Tesco.
Following Booker down were Sainsbury's (SBRY), down 1.5% to 238.4p, Tesco (TSCO), down 1.1% to 186.4p and Ocado (OCDO), down 0.8% to 293.7p.
The pub and brewing sector also struggled, with Marston's down 3.3% to 104.1p, Greene King (GNK) down 2.8% to 520p and Restaurant Group (RTN), down 2.7% to 302.7p.
Other fallers included Greencore (GNC), down 1.2% to 190.4p, Greggs (GRG), down 0.8% to 1,255p, McColl's (MCLS), down 2.5% to 269p and Glanbia (GLB), down 1.8% to €16.35.
The day's risers included Reckitt Benckiser (RB), up 1.5% to 6,938p and Associated British Foods (ABF), up 1% to 3,305p.
Other risers included Majestic WINE (WINE), up 1.5% to 347.5p, Science in Sport (SIS), up 1.4% to 70.5p, Finsbury Food Group (FIF), up 1.4% to 108.5p and McBride (MCB), up 1.2% to 224p.